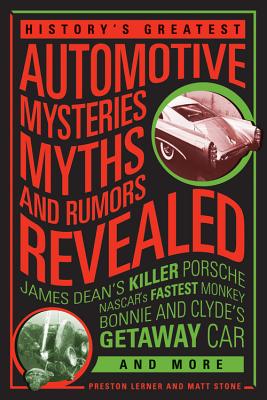 History's Greatest Automotive Mysteries, Myths, and Rumors Revealed
James Dean's Killer Porsche, NASCAR's Fastest Monkey, Bonnie and Clyde's Getaway Car, and More
Paperback

* Individual store prices may vary.
Other Editions of This Title:
Hardcover (11/30/2012)
Description
All of the weird, wonderful, and amazing tales of cars and the characters who drove them.
The automotive world is filled with crazy stories, mysteries, myths, rumors, and legends. Here are just a few covered in History's Greatest Automotive Mysteries, Myths, and Rumors Revealed.
- After James Dean's death behind the wheel, parts of his car were sold off -- and cursed their subsequent owners.
- Bonnie and Clyde almost exclusively stole Ford V8s as their getaway cars because they were the fastest cars of their day. Clyde Barrow even wrote Henry Ford a thank-you note for his unsuspecting help.
- Peanuts in the shell are considered bad luck at NASCAR races.
- James Brown's wife once claimed diplomatic immunity when fighting a traffic ticket because her husband was "the ambassador of soul."
- Harry Houdini learned to drive late in life only because he needed to get to an airport for a stunt, and it was the only drive he ever made.
- There is a myth of a 200-miles-per-gallon carburetor that oil companies and auto manufacturers are rumored to have kept hidden from the public.
- A mechanic working in a car's trunk was once mistaken for a kidnapping victim.
History's Greatest Automotive Mysteries, Myths, and Rumors Revealed covers every aspect of the intersection between people and their machines. The racing, manufacturing, crime, pop culture, and mechanical lives of cars are explained, along with the shockingly poor judgment of some human characters. Separate the fact from the fiction and learn where the truth lies!
Praise For History's Greatest Automotive Mysteries, Myths, and Rumors Revealed: James Dean's Killer Porsche, NASCAR's Fastest Monkey, Bonnie and Clyde's Getaway Car, and More…
"...an interesting read...they weave entertaining stories of vehicular crime, racing, moviemaking and various mishaps and mayhem." - the New York Times
"Authors Preston Lerner and Matt Stone are seasoned automotive writers and the book reads with the insider intrigue of two scribes talking to friends over beers. The stories are long, involved and authenticated as well as possible. This isn't a book of puffy tidbits. But there is sex, fraud, sunken treasure, the ghost of James Dean and so much more." - San Diego Union Tribune
"In the vein of Ripley's Believe It or Not, this book aims to get at the facts of the matter, and put to rest some automotive urban legends. A reader is bound to get engrossed into more than a few of the stories told within, and while some are more interesting than others, and the focus is decidedly American-centric, Stone and Lerner's book is a fun read, and an easy way to pass some time. Sometimes, facts really are stranger than fiction, but who doesn't love to be surprised--while learning new things about cars?" - Petrolicious.com
Motorbooks, 9780760347140, 256pp.
Publication Date: October 1, 2014
About the Author
Matt Stone (Glendale, CA), former executive editor of Motor Trend magazine, has been a professional automotive journalist and photographer since 1985. He is the author and photographer of several books, including Motorbooks' best-selling 365 Cars You Must Drive (2006), My First Car (2011), McQueen's Machines (2010), McQueen's Motorcycles (2017) and Hot Rod Empire (2018). He is the co-author, with Preston Lerner, of Winning: The Racing Life of Paul Newman (2014) and History's Greatest Automotive Mysteries, Myths, and Rumors Revealed (2014).
Preston Lerner, a regular contributor to Automobile magazine, has written about motorsports for publications ranging from Sports Illustrated to the New York Times. Lerner has co-authored Motorbooks titles Winning: The Racing Life of Paul Newman and History's Greatest Automotive Mysteries, Myths, and Rumors Revealed with Matt Stone.