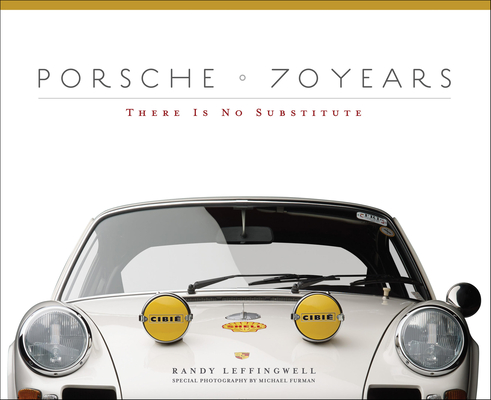 Porsche 70 Years
There Is No Substitute
Hardcover

* Individual store prices may vary.
Description
There's something for every Porsche enthusiast in Porsche 70 Years, whether rear-engine 911 loyalist, race fan, or follower of contemporary vehicles. Fasten your seatbelt and hit the gas.

Porsche is one of the most important and iconic automotive manufacturers in history. From its first 356 to today's technical tour de force, the 918, Porsche has advanced from strength to strength for nearly seven decades.

In Porsche 70 Years: There is No Substitute, author Randy Leffingwell offers a richly illustrated and detailed book that captures the full story of one of the world's leading automotive companies. Beautiful, contemporary photos and rare historical images accompany in-depth analyses of milestone cars and events. 

Created with Porsche's cooperation, the book brings to light the engineering anddesign stories behind Stuttgart's most famous cars--such as the 356, 904, 917, 911, 928, 935, 956 and others—as well as its key players. Comprising the most comprehensive overview of the company's entire history, Porsche 70 Years truly has no substitute.
Praise For Porsche 70 Years: There Is No Substitute…
"Porsche 70 Years is packed with a mix of gorgeous vintage photographs, original factory renderings, and spectacular studio photography from Michael Furman. As for Leffingwell's part, he again knocks it out of the park with a mixture of eloquent fact recitation and turn of phrase that doesn't beat you over the head with elegance."
- FlatSixes.com
"I can conclusively say that if you want a condensed history lesson on Porsche's last 70 years that focuses on its most legendary cars, you won't do much better than getting your hands on this book. There is, dare I say it, no substitute."
- TheNewswheel.com
"It's all here: race cars, production cars, concepts and prototypes, every significant Porsche ever made gets an analysis in Randy Leffingwell's book Even the 914! Whichever Porsche is your favorite gets a thorough look here."
- AutoWeek
"The informative text for each model recounted is somewhat brief and doesn't get too bogged down in the minutiae, while the cars themselves are pictured in all their splendor with rarely seen archival images and contemporary photography by Michael Furman...[A] worthy purchase for any Porsche enthusiast's bookshelf."
- Porsche Club of America
Motorbooks, 9780760347256, 256pp.
Publication Date: September 19, 2017
About the Author
Randy Leffingwell wrote his first book, American Muscle, in 1989 while still on staff at the Los Angeles Times. Since then, he has authored another 47 titles, covering subjects from sports cars to motorcycles to farm tractors. Leffingwell is considered one of the top Corvette historians working today, and he enjoys a close working relationship with Chevrolet as well numerous other manufacturers. His previous Corvette titles include Art of the Corvette, Corvette: Seven Generations of High Performance, Corvette Sixty Years, and Legendary Corvettes. He lives in Southern California.