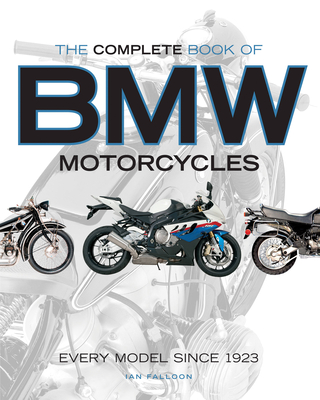 The Complete Book of BMW Motorcycles (Hardcover)
Every Model Since 1923
Motorbooks, 9780760347270, 288pp.
Publication Date: September 21, 2015
Other Editions of This Title:
Hardcover (5/5/2020)
* Individual store prices may vary.
Description
Get a close look at every production motorcycle ever built by BMW.
The Complete Book of BMW Motorcycles is a thorough year-by-year guide to every production machine ever built by Germany's leading motorcycle manufacturer. All the classic bikes are here--pre-World War II BMWs such as the R5 that defined performance in that era; the military R12 that carried the Wehrmacht as it blitzkrieged its way across Europe; the Earles-forked R69S that offered the perfect platform for mounting a Steib sidecar; the R90S cafe racer; the K1 "flying brick"; and the GS (Gelände Sport) series that launched a dual-sport revolution, right up to today's world-class S1000RR.
All of BMW's bike families are covered--the side-valve machines from the early years, the early overhead-valve performance bikes, the postwar Airheads and Oilheads, the four- and six-cylinder touring bikes, the early pushrod singles, the modern overhead-cam singles, the latest parallel twins, and inline four-cylinder sport bikes. From the first model, the R32 that launched BMW's motorcycle dynasty, to the latest (and fastest) model, the World-Superbike-dominating S1000RR, The Complete Book of BMW Motorcycles captures nearly a century of motorcycling excellence with a combination of historic and contemporary photos.
Complete technical specifications for each model make this book a must-have for any serious BMW aficionado. Don't miss the most thorough reference to these outstanding German motorcycles available today!
About the Author
Ian Falloon was born in New Zealand and studied engineering and music at Victoria University, Wellington. After a motorcycle accident brought an end to his career as a symphony orchestra oboist, he began writing articles about motorcycles for magazines including Classic Bike, Cycle World, Motorcyclist, Two Wheels, Motorcycle Sport, and Australian Motorcycle News. His first book, The Ducati Story, has run to several editions and has been published in three languages. The success of The Ducati Story led to a series of Ducati books and histories of Honda, Kawasaki, BMW, and Moto Guzzi motorcycles including Motorbooks titles The Complete Book of Ducati, The Complete Book of Moto Guzzi, The Complete Book of Triumph Motorcycles, and The Art of Ducati. With an interest and passion spanning decades, Ian now concentrates on collecting and restoring older Italian motorcycles, particularly Ducati, MV Agusta, Laverda, and Moto Guzzi. He lives in Melbourne, Australia, and is ably supported in his projects by his family.
Praise For The Complete Book of BMW Motorcycles: Every Model Since 1923…
"If there were ever a coffee table book to sit in a rider's living room, 'The Complete Book of BMW Motorcycles' is it." - Clutch and Chrome Magazine
"If you're a huge fan of BMW motorcycles, you should check out The Complete Book of BMW Motorcycles: Every Model Since 1923 by Ian Falloon." - Cycle World