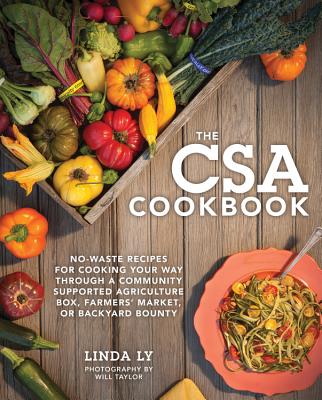 The CSA Cookbook
No-Waste Recipes for Cooking Your Way Through a Community Supported Agriculture Box, Farmers' Market, or Backyard Bounty
Hardcover

* Individual store prices may vary.
Description
Make the most of your CSA membership—or your garden harvest—with simple yet bold, inventive yet nourishing meals from acclaimed blogger Linda Ly.
Community Supported Agriculture (CSA) programs have connected farms to consumers and made people more in tune with where their food comes from, but still leave many stumped beyond the conventional uses for their produce. How many times has a CSA share arrived with things you've never seen before or not known what to do with?
The CSA Cookbook will help you cook your way through a CSA box (or farmers' market or backyard bounty) with 105 seasonal recipes that utilize every edible part of the plant, from leaves and flowers to stems and seeds. Think of it as a nose-to-tail approach—for vegetables!
With innovative ideas for preparing the lesser-known but no-less-delicious parts of plants, tips for using the odds and ends of vegetables, and easy preservation techniques, Linda Ly helps you get from farm to table without a fuss. Chapters include tomatoes and peppers, leafy greens, peas and beans, bulbs and stems, roots and tubers, melons and gourds, and flowers and herbs. You'll find globally-inspired, vegetable-focused recipes that turn a single plant into several meals—take squash, for instance. This year-round vegetable brings a variety of tastes and textures to the table: Squash Blossom and Roasted Poblano Tacos, Sicilian Squash Shoot Soup, Autumn Acorn Squash Stuffed with Kale, Cranberries, and Walnuts, and Toasted Pumpkin Seeds. If you grow your own food at home, you might be surprised to learn you can eat the leaves from your pepper plants, or pickle the seed pods from your radishes.
The CSA Cookbook aims to inspire curiosity in the garden and creativity in the kitchen. You'll look at vegetables in a whole new way and think twice before you discard your kitchen "scraps"!
"One of my favorite sayings is, 'Use it up, wear it out, make it do, or do without.' What appeals to me about this phrase is the idea that everything is useful. And that's why I like The CSA Cookbook so much. Many of Linda's dishes utilize the oft-discarded parts of vegetables such as tomato leaves, radish greens, and carrot tops. More than just being efficient, these recipes encourage us to explore the flavors and uses of every edible part of a plant. This book will completely change the way you look at vegetables." —P. Allen Smith, author of P. Allen Smith's Seasonal Recipes from the Garden
"The CSA Cookbook shows you how to use everything your vegetables offer, whether they come from your CSA or your garden. After all, why throw away what's edible when it can offer so much in the kitchen?" —Deborah Madison, author of Vegetable Literacy: Cooking and Gardening with Twelve Families from the Edible Plant Kingdom
Praise For The CSA Cookbook: No-Waste Recipes for Cooking Your Way Through a Community Supported Agriculture Box, Farmers' Market, or Backyard Bounty…
"I love this cookbook. From herb flowers to carrot tops to watermelon rind, Linda has a beautiful sensibility for using the whole vegetable. In her hands, familiar ingredients from the garden and the greenmarket take on rich and unexpected flavors." - Louisa Shafia, author of Lucid Food: Cooking for an Eco-Conscious Life
"The CSA Cookbook is the book I've long been searching for but haven't been able to find, chock full of clever, economical, and tasty ways to use up otherwise composted or discarded produce. Without a doubt, Linda has penned the ideal literary accompaniment to anyone with a CSA subscription or who simply has been seeking creative ways of using up all those bits and bobs you haven't known what to do with." - Ashley English, author of Handmade Gatherings: Recipes and Crafts for Seasonal Celebrations and Potluck Parties
"The CSA Cookbook takes an inventive approach to farm-focused, seasonal cooking with bright and vibrant recipes that leave you excited by what might arrive in your CSA box next." - Jennifer McGruther, author of The Nourished Kitchen
"This is a must-have book for home cooks who prepare and serve fresh, healthy food raised in healthy soil. Linda's enticing recipes use every part of a beet or broccoli or leek to provide the rich garden experience we all want." - Joanne Neft, author of The Art of Real Food
"Ly's given a whole generation new ways to reimagine the backyard garden, and now she's given us a fresh and uniquely delicious take on modern farm food. A fearless cook who wastes nothing, her nourishing dishes fit the bill for weeknight suppers or when you need something tasty and satisfying to feed a hungry crowd." - Kate Manchester, Edible Media
"You will have so many why-didn't-I-think-of-that moments as you cook your way through this inspired book. Linda translates the nose-to-tail ethos into garden speak so well that the only thing to go hungry will be your compost pile." - Ian Knauer, author of The Farm: Rustic Recipes for a Year of Incredible Food
"Linda's expertise as a passionate gardener shows through in every one of her unique, seasonal dishes. More than a collection of well-photographed whole foods recipes, The CSA Cookbook is a guide to sustainable cooking. After learning about the culinary possibilities of tomato leaves, chard stalks, and kale buds, one is guaranteed to be inspired by Linda's wise top-to-tail approach to vegetables. - Anya Kassoff, author of The Vibrant Table: Recipes from My Always Vegetarian, Mostly Vegan, and Sometimes Raw Kitchen
Voyageur Press, 9780760347294, 224pp.
Publication Date: March 20, 2015
About the Author
Linda Ly is the author of The New Camp Cookbook, The Backyard Fire Cookbook, The CSA Cookbook, and The No-Waste Vegetable Cookbook and the blogger behind the award-winning gardenbetty.com, a lifestyle site devoted to modern homesteading, green living, and adventure traveling. Nearly two million visitors turn to the blog every year for inspiration, tips, and tricks for eating well and living well, both in their backyards and in the great outdoors. Linda has been featured in national and regional media including Country Living, HGTV, Better Homes & Gardens, and Heritage Radio Network. Her passion for camping and cooking has taken her all over the American West, but she calls Bend, Oregon, home.
Will Taylor's lifelong devotion to photography began in grammar school when he started building 110 kit cameras. His love for that clicking shutter never abated. He is now an award-winning commercial and editorial fashion photographer, shooting magazine covers and celebrities for clients worldwide. Still, Will lives for all types of photography—from nature photography to cookbooks—and focusing on the art behind every shot. When not hiding behind his lens or computer screen, Will enjoys escaping into nature with his wife and friends, searching for that next bluebird powder day, glassy peeling wave, or meandering river.
or
Not Currently Available for Direct Purchase