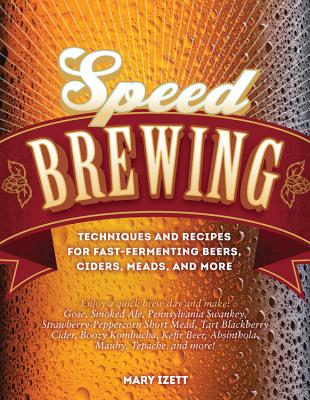 Speed Brewing
Techniques and Recipes for Fast-Fermenting Beers, Ciders, Meads, and More
Paperback

* Individual store prices may vary.
Praise For Speed Brewing: Techniques and Recipes for Fast-Fermenting Beers, Ciders, Meads, and More…
"As the popularity of home brewing has increased, some brewers were bound to find themselves exploring beyond beer. Izett, who cohosts a radio show on fermenting,Fuhmentabudit!, realized that traditional brewing methods were not always possible and started looking for faster brews. She discovered quick meads, soda, and kefir, among others, and here takes readers through each project, beginning with discussions of ingredients and equipment through the process of bottling the final product. She provides basic recipes as well as variations on each brew. Throughout, the tone is encouraging of experimentation and the writing clear. Diving into this book gives the home brewer plenty of room to stretch their brewing experience. VERDICT A welcome introduction to the art of speed brews, these recipes will be a marvelous addition to any brewer's bookshelf." - Ginny Wolter, Library Journal
—
-
"When I first saw Mary's book, I must admit that it raised an eyebrow. What was this, some sort of strange joke? But one good look through, and I was hooked. Wherever you go in the world, from England to Vietnam to Africa, people have always brewed some delicious beers quickly-why not now? There are a lot of great ideas in these pages." - Garrett Oliver, brewmaster of the Brooklyn Brewery, editor-in-chief of The Oxford Companion to Beer, and author of The Brewmaster's Table
"I joke that if it can be fermented, I've fermented it. However, Mary's book shows that my experiments have fallen far short! She's presented so many fun, easy, interesting, and impressive ideas that I can't wait to try. Using her recipes for alternative brews turns every trip to the grocery into a research trip. Back to the fermenters I go!" - Drew Beechum, author of Experimental Homebrewing, The Everything Hard Cider Book, and The Everything Homebrewing Book
"Fermented beverages are as old and diverse as mankind, but in this age of high technology, it is easy to forget how accessible they can be. I have always been a dedicated homebrewer and craft beer drinker, but this book has convinced me to broaden my horizons and try something new. In fact, I have time right now..." - John Palmer, author of How To Brew
"The beers I enjoy most tend to be made by brewers who have entered into partnership with their favorite yeast strains. They are a product of confidence as much as equipment or scale. Speed Brewing is intended to inspire such confidence as quickly as the fermentations it describes." - Stan Hieronymus, author of For the Love of Hops and Brew Like a Monk
"This is a great book on fermenting a wide array of beverages. It is user-friendly, with straightforward methods and clear instructions. It's a valuable contribution to the growing literature of fermentation." - Sandor Ellix Katz, author of The Art of Fermentation and Wild Fermentation
—
-
Voyageur Press, 9780760347379, 192pp.
Publication Date: June 15, 2015
About the Author
Mary Izett is a passionate homebrewer specializing in fast and alternatively fermented beverages. She co-hosts Fuhmentaboudit!, a live weekly show on all things fermentable, on Heritage Radio Network and is a BJCP National ranked beer judge. She has been the president of both the New York City Homebrewers Guild and the Malted Barley Appreciation Society and has written for Ale Street News, All About Beer, and Zymurgy.
or
Not Currently Available for Direct Purchase