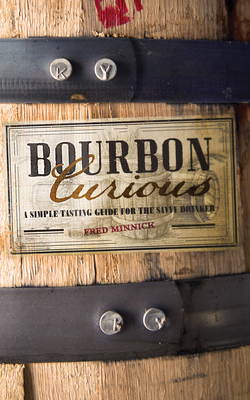 Bourbon Curious
A Simple Tasting Guide for the Savvy Drinker
Hardcover

* Individual store prices may vary.
Other Editions of This Title:
MP3 CD (8/8/2017)
Description
Discover this distinct and uniquely American whiskey: bourbon!
In Bourbon Curious: A Simple Tasting Guide for the Savvy Drinker, award-winning whiskey writer and Wall Street Journal best-selling author Fred Minnick creates an easy-to-read interactive tasting journey that helps you select barrel-aged bourbons based on your flavor preferences. Using the same tasting principles he offers in his Kentucky Derby Museum classes and as a judge at the San Francisco World Spirits Competition, Minnick cuts to the chase, dismissing brand marketing and judging only the flavor of this all-American whiskey.
Bourbon Curious groups bourbon into four main flavor profiles--grain, nutmeg, caramel, and cinnamon. While many bourbons boast all four flavor notes, one delicious sensation typically overpowers the rest. This book reveals more than fifty bourbon brands' predominate tastes and suggests cocktail recipes to complement them. In addition, Minnick spends some time busting bourbon's myths, unraveling its mysteries, and exploring distiller secrets, disclosing the recipes you won't find on a bottle's label.
As bourbon becomes more ingrained in the culinary world, foodies and drink enthusiasts alike are looking for a basic understanding of America's native whiskey. Bourbon Curious will help curious minds take their first step in learning about this highly celebrated spirit.
Like good-tasting bourbon, Bourbon Curious is approachable to all!
Praise For Bourbon Curious: A Simple Tasting Guide for the Savvy Drinker…
"A truly enlightened bourbon drinker needs a guide to enhance the process of sipping and appreciating every nuance of America's native spirit. Here it is. Bourbon Curious provides an interactive tasting journey to help consumers understand their palates and determine their preferred flavors. Bourbon Curious is filled with the information that will up the game for even the most experienced bourbon drinker." - The Sommelier Journal
"If you've got a family member or friend who loves bourbon, this book is "must have" in a wine and spirits library. It's also a "must have" book for anyone studying for her of his Master Sommelier's test." -Wine-Blog.org
"Fred Minnick is my favorite spirits writer because he is knowledgeable, writes beautifully, and turns what could be a screed of dull tasting notes into an insightful discussion of the exploding world of a "brown liquor" that even ten years ago seemed poised to be relegated to redneck bars and juleps once a year on Derby Day. He spends nearly 100 pages giving you the history, the lore, the legal limits, and exposes much of the nonsense spread by producers about the confusing myriad single, small, ultra-rare bottlings with special treatment in casks coming out of Kentucky on a seasonal basis. Trust Minnick to steer you to the best of them." - Huffington Post
"The world has been waiting for this book." - Jeffrey Morgenthaler, author of The Bar Book: Elements of Cocktail Technique
"Contrary to its title, BOURBON Curious, A Simple Tasting Guide for the Savvy Drinker is far from simple. It's clear the author, FRED MINNICK, professional taster, judge, and self-proclaimed "bourbon geek" knows Bourbon - History, Ingredients, Who, What, When, Where, Why of making, selling, tasting, judging - and he shares his wisdom with details and humor. This book will appeal to history buffs and connoisseurs as it contains a plethora of interesting and vetted facts. It's truly everything you wanted to know about Bourbon but didn't know who or what to ask." -Examiner.com
"Bourbon Curious is a straight shot of smarts about America's whiskey, served up by bourbon's best friend, Fred Minnick." - Lew Bryson, author of Tasting Whiskey: An Insider's Guide to the Unique Pleasures of the World's Finest Spirits
"In August, best-selling Louisville author Fred Minnick published "Bourbon Curious: A Simple Tasting Guide for the Savvy Drinker," in which he uses tasting principles to help readers select bourbons based on their flavor preferences. Yes, the book is educational. But it'll never feel like homework." - Courier Journal
Zenith Press, 9780760347409, 240pp.
Publication Date: August 7, 2015
About the Author
Fred Minnick is a Wall Street Journal best-selling author and the writer of award-winning books, such as Bourbon Curious, Bourbon, Rum Curious, and Whiskey Women. Minnick is the editor-in-chief of Bourbon+ magazine, senior contributor to Forbes, and co-founder of the popular Bourbon & Beyond Festival. He is the "bourbon authority" for the Kentucky Derby Museum and regularly appears in the mainstream media, including CBSThis Morning, Esquire, Forbes, and NPR.