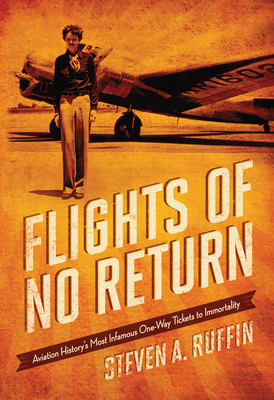 Flights of No Return (Hardcover)
Aviation History's Most Infamous One-Way Tickets to Immortality
Zenith Press, 9780760347928, 256pp.
Publication Date: July 10, 2015
* Individual store prices may vary.
Description
Discover the mysterious, controversial, and sometimes downright eerie history of flights that didn't end as planned.
The history of aviation is full of accounts of history's most spectacular flights. But what about the ones from which someone failed to return?
- A celebrated millionaire--who also happened to be the world's foremost aviator--lifted off in a small plane one clear morning in 2007 and disappeared.
- The glamorous son of a beloved fallen president took off on a hazy summer night in 1999 and plunged himself and two others into the Atlantic Ocean.
- A US Navy blimp landed one Sunday morning in 1942 in the middle of a city street in California with no one aboard.
Some of these "non-returns" occurred because of errors in judgment; others were intentional, and some resulted from causes still unknown. Get the full, meticulous account of the fascinating people involved in these flights, the mistakes they made, and the ways in which their "flight of no return" affected the world. Pilot and aviation writer Steven A. Ruffin covers the entire 230-year span of manned flight in all types of aircraft through war and peace. Balloons, blimps, biplanes, jets, and spaceships have all suffered mishaps over the years.
Don't miss the mystery, adventure, intrigue, and a sprinkling of the supernatural and extraterrestrial in Flights of No Return.
About the Author
Steven A. Ruffin is an aviation writer and pilot with a lifelong interest in the history of flight. He served for four years as managing editor of the World War I aviation journal Over the Front and is an eight-time winner of the League of World War I Aviation Historians' Hooper Award for writing and editorial excellence. In 2005, Steve published his first book, Aviation's Most Wanted: The Top 10 Book of Winged Wonders, Lucky Landings, and Other Aerial Oddities, later distributed internationally under the titleTop Fun.
Steve has been a licensed pilot since 1972 and has owned and flown both vintage and experimental aircraft. He is a longtimemember of the Experimental Aircraft Association (EAA) and after serving in the US military for 24 years, he retired in 2003 as a colonel in the US Air Force. He currently lives in Virginia Beach, Virginia.
Praise For Flights of No Return: Aviation History's Most Infamous One-Way Tickets to Immortality…
"A well-researched collection of narratives about more than 20 aviation mysteries..." - Air & Space Smithsonian
"The history of aviation is full of mysteries and legends, but the variety in Steven Ruffin's book will surprise even some long-time students of the genre. From a French balloon in 1785 to Malaysian Airlines Flight 370 in 2014, the author addresses familiar topics such as the death of Manfred von Richthofen, the disappearance of Amelia Earhart, and the "devil's triangle" mystery of the U.S. Navy's Flight 19. Most of the legendary tales are bound to remain unresolved, including D.B. Cooper's airliner hijacking in 1971, while famed band leader Glenn Miller's WW II disappearance is more plausibly explained. In all, an entertaining and informative anthology for buffs and historians alike."
- Barrett Tillman, Author of Forgotten Fifteenth: the Daring Airmen Who Crippled Hitler's War Machine
"Steve Ruffin's Flights of No Return is a fascinating page turner that will keep you riveted all the way to touchdown."
- Aviation Week
"A well-researched collection of narratives about more than 20 aviation mysteries..."
- Air & Space Smithsonian
"... one of the really fascinating aviation reads in recent memory."
- In Flight USA Magazine
"... Steven Ruffin delivers the mother lode with this book."
- Aviation History
"The history of aviation is full of mysteries and legends, but the variety in Steven Ruffin's book will surprise even some long-time students of the genre. From a French balloon in 1785 to Malaysian Airlines Flight 370 in 2014, the author addresses familiar topics such as the death of Manfred von Richthofen, the disappearance of Amelia Earhart, and the "devil's triangle" mystery of the U.S. Navy's Flight 19. Most of the legendary tales are bound to remain unresolved, including D.B. Cooper's airliner hijacking in 1971, while famed band leader Glenn Miller's WW II disappearance is more plausibly explained. In all, an entertaining and informative anthology for buffs and historians alike." - Barrett Tillman, Author of Forgotten Fifteenth: the Daring Airmen Who Crippled Hitler's War Machine
"Steve Ruffin's Flights of No Return is a fascinating page turner that will keep you riveted all the way to touchdown." - Aviation Week
or
Not Currently Available for Direct Purchase