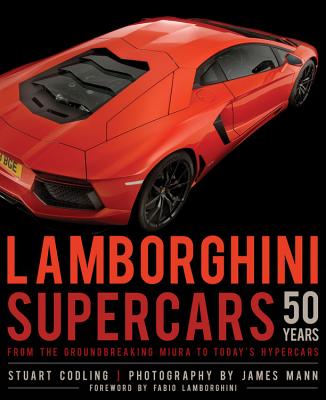 Lamborghini Supercars 50 Years (Hardcover)
From the Groundbreaking Miura to Today's Hypercars - Foreword by Fabio Lamborghini
Motorbooks, 9780760347959, 224pp.
Publication Date: September 1, 2015
* Individual store prices may vary.
Description
Immerse yourself in this complete guide on Lamborghini's ultimate performance cars.
Nearly 50 years ago, upstart high-end sports car manufacturer Lamborghini set the performance car world on its ear with its stunning supercar, the Miura. Wrapped in a svelte Marcello Gandini - designed body and powered by a 350-horsepower V-12, the Miura instantly made every other car look antiquated.
In 1974, Lamborghini again shocked the automotive world with the mad Countach (an Italian expression one might utter at the sight of a beautiful woman), another Gandini masterpiece. Wide, low, and menacing, the original Countach completely recalibrated the supercar template.
The Diablo replaced the Countach in 1990 and was the last of the Lamborghini supercars under the auspices of the "original" company. Audi acquired the company in 1997 and would bring significant German efficiency to bear, turning out supercars to a new template: the Murielago in 2001, the Gallardo in 2003, the Reventon in 2008, the Aventador in 2011, and, most recently, the appropriately named Huracan.
Each one is an ultimate car. Many were collector vehicles from the moment they rolled off the production line. Beneath their stunning bodywork lie chassis and powerplants bristling with the best technology of their respective eras. Lamborghini's latest supercars zip from 0 to 60 miles per hour in under 3 seconds and hit top speeds in excess of 220 miles per hour. Their prices are equally staggering.
Lamborghini Supercars 50 Years is devoted exclusively to all of Lamborghini's ultimate performance cars. No enthusiast of these world-class sports cars will want to miss it!
About the Author
James Mann is one of the world's leading car and motorcycle photographers, with more than 20 years of experience shooting for enthusiast publications, the motor industry, and businesses around the world. His work has appeared within and on the covers of more than 50 books and has provided stunning visuals for numerous magazines, including Classic and Sports Car, CAR magazine, Forza, The Sunday Times, and Automobile magazine as well as being chosen to photograph the British Auto Legends stamps for the Royal Mail. His advertising clients include Aston Martin, BMW, and Toyota, among others.
Stuart Codling has worked in motorsports as a journalist and broadcaster for over a decade, covering sports cars in the United States before joining F1 Racing, the world's best-selling Formula 1 magazine. He has ridden pillion with World Superbike Champion Neil Hodgson, gone snowboarding with (former) FIA President Max Mosley, and been sworn at by ex-Ferrari F1 driver Eddie Irvine. He has appeared as an F1 expert on TV and radio, has hosted for Renault F1, and contributes to F1 Racing, Autosport, and Autocar. He is the author of the Motorbooks bestsellers Art of the Formula 1 Race Car and Real Racers.
Praise For Lamborghini Supercars 50 Years: From the Groundbreaking Miura to Today's Hypercars - Foreword by Fabio Lamborghini…
"The lore of the brand unfolds quickly and smoothly in Lamborghini Supercars 50 Years, by author Stuart Codling and photographer James Mann. There are engaging highlights on significant engineers and designers. There are historic photos, concepts and prototypes and many twists and turns, myths and misnomers -- not all of them glorious or successful but always fortifying." - San Diego Union Tribune
"Stuart Codling has authored a 224-page hardcover tribute to Lamborghini's mid-engine flagships. Exciting photography by James Mann is combined with Lamborghini-supplied images to create a visually arresting historical overview. This coffee table-worthy book is a genuine bargain." - Hemmings Sports & Exotics
"It's a tale spanning of 50 years of constant one-upmanship, in which each successive Lamborghini aims farther, faster and more extreme than its predecessor. In addition to being a parade of fine photographs of beautiful cars, Lamborghini Supercars 50 Years provides technical details of the many variants of each model, and background information about the men who designed and engineered them." - TopSpeed.com
'glorious... covers everything from the early days of tractor manufacturing to the polished supercars of today.'
'excellent... charts in superb detail the history of Lamborghini'
'big on stylish photography... does the job very nicely'