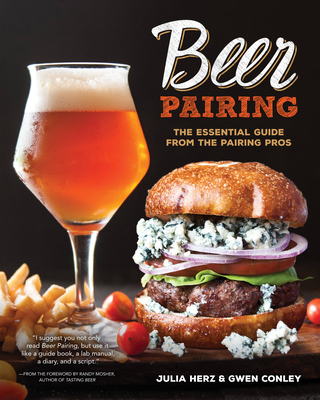 Beer Pairing
The Essential Guide from the Pairing Pros
Hardcover

* Individual store prices may vary.
Description
2016 International Association of Culinary Professionals Award Finalist!
Beer has reclaimed its place at the dinner table.
Yet unlike wine, there just aren't many in-depth resources to guide both beginners and beer geeks for pairing beer with food. Julia Herz and Gwen Conley are here to change that.
As you start your journey, you'll learn all about the effects aroma, taste, preference, and personal experience can have on flavor. Just as important, you'll become a tasting Anarchist--throw out the conventional advice and figure out what works for you! Then, on to the pairing. Begin with beer styles, start with your favorite foods, or join the authors on a series of wild palate trips. From classics like barbecue ribs with American Brown Ale to unusual matches like pineapple upside-down cake with Double India Pale Ale, you'll learn why some pairings stand the test of time and you'll find plenty of new ideas as well. With complete information for planning beer dinners and cooking with beer, tips from pro brewers, and geek-out science features, Julia and Gwen will make sure you never look at beer--or food--the same way again!
Praise For Beer Pairing: The Essential Guide from the Pairing Pros…
"I suggest you not only read Beer Pairing, but use it like a guide book, a lab manual....Beat it up, wear it out, and fill its margins with notes." - From the foreword by Randy Mosher, author of Tasting Beer
"Talking beer and food with Julia and Gwen is a seriously fun experience--and this book is the next best thing. Beer Pairing will truly enhance your life one delicious palate trip at a time." - Lauren Salazar, sensory specialist and wood cellar blender, New Belgium Brewing
"This book fills a big gap in my reference library. Gwen and Julia have taken a deep dive into how and why pairings work and produced an invaluable guide." - Janet Fletcher, author of Cheese & Beer and publisher of Planet Cheese
"Thanks to Gwen and Julia, now everyone can taste beers like an expert, pair beer with wonderful foods, and get maximum enjoyment from the experience." - Mitch Steele, brewmaster, Stone Brewing, and author of IPA
"Passion is an understatement when describing Gwen and Julia's fervent love of both beer and food. Their collective knowledge, experience, and intuition present the reader with an easy to understand yet comprehensive guide to all there is to know about beer, food, and pairing." - Matt Brophy, brewmaster and chief operation officer, Flying Dog Brewery
"Part science experiment, part magical mystery tour--Gwen and Julia have brilliantly fused decades of expertise and knowledge to create the most detailed, innovative, and visually stimulating beer pairing guide in the world. Each page will leave your mind buzzing with knowledge and your tongue tingling with anticipation." - Ashley V. Routson, author of The Beer Wench's Guide to Beer
"Beer friends, this is a must add to your library collection, and it will sit nicely somewhere between your Oxford Companion and Tasting Beer on the shelf." - The Better Beer Society
—
-
Voyageur Press, 9780760348437, 216pp.
Publication Date: December 1, 2015
About the Author
Julia Herz is the Craft Beer Program Director at the Brewers Association and Publisher of CraftBeer.com. She has been featured by Splendid Table, The Food Network's Unwrapped, CNBC's Closing Bell, Good Morning America Live and numerous other national media outlets. She also is a BJCP beer judge, Certified Cicerone(R), and homebrewer. She tweets about beer as @HerzMuses.
Gwen Conley is the Director of Brewery Production and Quality at Port Brewing/The Lost Abbey in San Marcos, California, one of the most highly regarded and award-winning breweries in the United States. Previously, she has worked as Quality Assurance and Sensory Director at Flying Dog Brewery and as a Flavor Panel Leader for Ball Packaging Corporation. In a previous life, she was a microbiologist, environmental chemist, and biology teacher. She is a veteran judge at the World Beer Cup and the Great American Beer Festival and an instructor for the American Brewer's Guild and the University of California, San Diego, Brewer's Certificate Program. She tweets about beer as @SensoryGoddess.