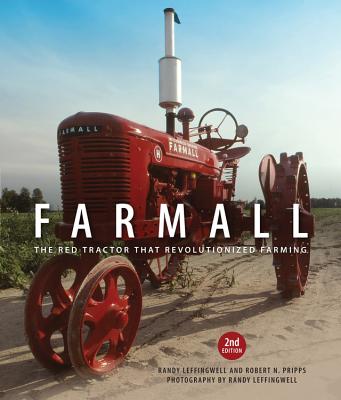 Farmall, 2nd Edition (Hardcover)
The Red Tractor that Revolutionized Farming
Voyageur Press, 9780760348468, 256pp.
Publication Date: November 9, 2015
Other Editions of This Title:
Paperback (3/15/2007)
Hardcover (9/1/2005)
* Individual store prices may vary.
Description
The complete history of the tractor that changed farming forever.
Award-winning author and photographer Randy Leffingwell and renowned tractor historian Robert N. Pripps tell the story of the Farmall tractor, one of the most significant and popular farm tractors ever made. International Harvester's Farmall ushered in innovations in engineering, manufacturing, and design that changed the world of tractors. Along the way, the Farmall became an icon in agriculture.
In Farmall:The Red Tractor That Revolutionized Farming, the history of the Farmall is traced from the first Farmall, developed in the early 1920s, through its evolution to the new Farmall models. The book combines a broad cultural history of Farmall with photos of restored machines, as well as color and black and white archival photography.
Trace all of the tractor models, variations, improvements, engine and hydraulic advances, and accompanying implements through every Farmall generation. This new, up-to-date history of Farmall includes the latest models and implements, bringing you all of the information you want about these unique tractors.
About the Author
Randy Leffingwell wrote his first book, American Muscle, in 1989 while still on staff at the Los Angeles Times. Since then, he has authored another 47 titles for Motorbooks and its sister publisher Voyageur Press covering subjects from sports cars to motorcycles to farm tractors. Leffingwell is considered one of the top Corvette historians working today, and he enjoys a close working relationship with Chevrolet as well numerous other manufacturers. His  previous Corvette titles include Art of the Corvette; Corvette Fifty Years, Corvette 60 Years, and Legendary Corvette. He lives in Santa Barbara, California.
Randy Leffingwell is the author and photographer of numerous books on tractors and transportation.