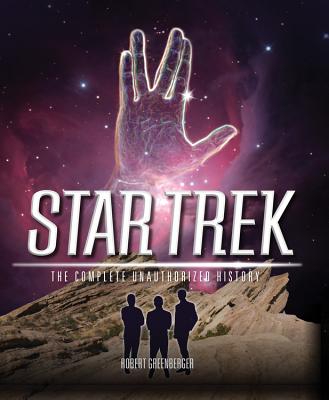 Star Trek (Paperback)
The Complete Unauthorized History
Voyageur Press, 9780760349212, 256pp.
Publication Date: October 26, 2015
* Individual store prices may vary.
Description
An unauthorized history of Star Trek TV shows and films, celebrating its enduring popularity and devoted fans.
Star Trek: The Complete Unauthorized History is a loving and candid review of the fifty-year franchise, a story as full of plot twists as its hundreds of episodes and films. Greenberger, author of over a dozen Star Trek novels and short stories, tells this fascinating tale as only an expert and longtime fan could. He examines the behind-the-scenes saga--from the struggles of Star Trek's enthusiastic creator, Gene Roddenberry, to realize his vision on the small screen, to the franchise's latest cinematic reinvention from J. J. Abrams--as well as the devoted fans who support its continued growth.
Featuring sidebars by such Star Trek authorities as Michael and Denise Okuda, as well as contributions from well-known fans, including astronauts Thomas D. Jones and Mario Runco Jr., Star Trek: The Complete Unauthorized History captures the long and bumpy road to Star Trek becoming an international, groundbreaking phenomenon. Greenberger explores the many ways in which Star Trek has earned its enduring place in pop culture, evidenced by myriad comic books, audio dramas, software, board games, short stories, novels, Saturday Night Live sketches, elaborate fan productions, and well-known catch phrases. More than two hundred photographs illustrate the book.
About the Author
Robert Greenberger has long worked in the pop-culture field, including tenures at Starlog Press, DC Comics, Marvel Comics, and Weekly World News. His works include The Essential Batman Encyclopedia, Spider-Man Vault (co-written with Peter David), and Stan Lee's How to Write Comics (co-written with Stan Lee). He has over a dozen Star Trek books to his credit, in addition to editing the comic book adaptations for eight years. For more information, see his website, bobgreenberger.com.