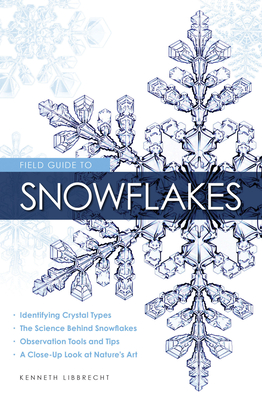 Field Guide to Snowflakes (Paperback)
Voyageur Press, 9780760349427, 112pp.
Publication Date: September 1, 2016
* Individual store prices may vary.
Description
This pocket-size field guide to snowflakes is perfect for science- and weather-loving readers who are curious about these beautiful ice crystals.
Snowflakes begin as water vapor in the air. Just add a pinch of dust, an icy-cold temperature and, like magic, you've got a delicate, crystalline snowflake.
In this pocket-size guide to the secret world of snowflakes, you'll learn the science behind these one-of-a-kind natural masterpieces. The book's pages contain stunning microphotography, descriptions of common snowflake types, and information about snowflakes' complex structures and patterns.
The next time the forecast calls for snow, you can grab this snowflake field guide and explore the natural beauty of snowflakes as they fall around you. Thanks to this book, you'll predict when the most beautiful crystals are likely to fall, and you'll know how you can best observe and photograph them.
About the Author
Kenneth Libbrecht is a professor of physics at Caltech, where he studies the molecular dynamics of crystal growth, especially how ice crystals grow from water vapor, which is essentially the physics of snowflakes. He has authored several books on this topic, including The Snowflake: Winter's Secret Beauty, The Snowflake: Winter's Frozen Artistry, The Art of the Snowflake, and Field Guide to Snowflakes. Dr. Libbrecht served as science consultant on the Disney film Frozen. He lives in Pasadena with his wife, Rachel Wing. They have two children.