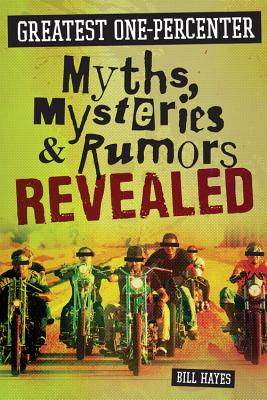 Greatest One-Percenter Myths, Mysteries, and Rumors Revealed (Hardcover)
Motorbooks, 9780760349779, 240pp.
Publication Date: May 9, 2016
* Individual store prices may vary.
Description
Get the straight facts on the legends and events that surround outlaw motorcycle clubs. Not everything is as it seems when the media is involved.

Pretty much everything the world has ever heard about one-percenter motorcycle clubs has been pure, unadulterated lies. Take the so-called Hollister riot of 1947 that started it all. LIFE magazine convinced America that what Hunter Thompson called "The Menace" was about to ride into town spewing rage and 30-weight motor oil, and America believed it.
So what really happened in Hollister? Greatest One-Percenter Myths, Mysteries, and Rumors Revealed divulges the truth about that incident and many more legendary events, including Charles Manson's desire for a biker army, what really happened to the Easy Rider bikes, and an examination of the mystery of the Waco shootings. The truth will be revealed, but only if you crack the spine on this book and read the real story.
 
Topics covered in this book include the following:
Lost Lore of the Laughlin River Run
The Straight Satans and Charles Manson 
Inside the Heads of the Infiltrators
The Growth of the Three-Piece Patch in Red China
The Mystery of the Easy Rider Bikes
Blunders Down Under
Women in the Wild: Mamas, Sheep, Ol' Ladies, and Lies
Purple Wings: Codes, Secrets, and Anti-Everything Acronyms
The Holiness of Hollister, the Sins of the Scribes
The Strange Rise and Fall of Japan's Bōsōzoku
Putin's Angels: Throwing the Separation of MC and State to the Wolves
Who Really Hatched Easy Rider?
Confessions of Murder on National Television
"Can You Guys Ride?": Giving the Cast of Sons of Anarchy Their Keys
Waco: The Biggest Mystery of All
Don't believe everything the media has been telling you about 1%-er motorcycle clubs. 
Greatest One-Percenter Myths, Mysteries, and Rumors
 has the straight facts.
About the Author
Bill Hayes is one of those rare authors who abides by the age-old writing advice: "Write what you know." And for him, it works. His love for motorcycles--specifically the always-compelling biker culture--launched his writing success. His bestselling book, The Original Wild Ones: Tales of the Boozefighters Motorcycle Club, followed by American Biker (www.americanbikerthebook.com) and The One-Percenter Encyclopedia have all become classics within the genre. Hayes has served as the National Press and Publicity Officer for the Boozefighters Motorcycle Club (BFMC), continually striving to get the media to trade in their sensationalism for the truth.
Praise For Greatest One-Percenter Myths, Mysteries, and Rumors Revealed…
"Bill Hayes a well know Biker and Author has a new book out named Greatest One-Percenter Myths, Mysteries & Rumors Revealed and I have had an opportunity to read it and I would like to suggest that you do as well."
- Bikernet
or
Not Currently Available for Direct Purchase