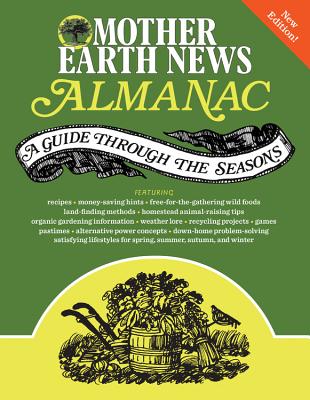 Mother Earth News Almanac (Paperback)
A Guide Through the Seasons
Voyageur Press, 9780760349854, 240pp.
Publication Date: February 15, 2016
* Individual store prices may vary.
Description
Mother Earth News Almanac is back--refreshed and ready for the next generation of self-sufficient makers and DIYers.
Mother Earth News Almanac: A Guide Through the Seasons returns! The 1970s classic has been out of print for years. Now, updated for today's readers and back in print, its information is as useful as ever. It contains instructions and illustrations for everything from harnessing solar energy to cultivating a sustainable garden to learning how to keep bees. Simply put, Mother Earth News Almanac is designed to empower readers to be self-sufficient.
Mother Earth News team has updated the essentials, but left the core of the guide intact, with all the charm of the original--from the writing style to the signature line drawings. This is a must-have for any fan of Mother Earth News, as a budget-friendly guide for a new generation of homesteaders.
Mother Earth News Almanacis a seasonal guide with subject matter that every passionate DIYer, homesteader, or environmentally aware reader can appreciate. You'll find recipes, money-saving tips, and homesteading techniques such as illustrated directions for tying a timber hitch, cat's-paw, sheepshank, and other knots; folk medicine treatments and preventatives; tips on raising chickens and keeping bees; plans for building three kinds of kites; complete instructions for fast and easy compost; and much, much more!
The simple life doesn't have to be hard--not when you have this timeless almanac.
About the Author
Mother Earth News is America's leading magazine about sustainable and self-reliant living. Founded by John and Jane Shuttleworth in 1970, it is owned today by Ogden Publications of Topeka, Kansas, and boasts a growing circulation of over half a million. Since the magazine's founding, Mother Earth News has been a pioneer in the promotion of renewable energy, recycling, family farms, sustainable agricultural practices, better eating habits, medical self-care, more meaningful education, and affordable housing. The magazine's mission is extended by six annual Mother Earth News Fairs and a vibrant website.
Praise For Mother Earth News Almanac: A Guide Through the Seasons…
"Mother Earth News Almanac is a great resource for both professional and amateur gardeners. It tells you what you need to do at each step to produce maximum fresh. This book provides hundreds of useful tips in a very easy, readable language and style. It will help your garden at every step throughout the year."
- The Washington Book Review
"It's the kind of book that gives you tips for actually LIVINGÃ?¢ââ??¬Ã?¿ you'll love flipping through the Mother Earth News Almanac and finding even more ways to live your life more sustainably, mindfully, and frugally."
- Gardening in the Mitten blog
"It's the kind of book that gives you tips for actually LIVING�¿ you'll love flipping through the Mother Earth News Almanac and finding even more ways to live your life more sustainably, mindfully, and frugally." - Gardening in the Mitten blog