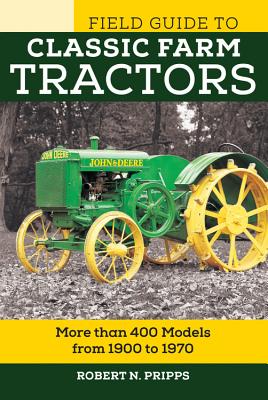 Field Guide to Classic Farm Tractors (Paperback)
More than 400 Models from 1900 to 1970 (Voyageur Field Guides)
Voyageur Press, 9780760350126, 208pp.
Publication Date: July 1, 2016
* Individual store prices may vary.
Description
The Field Guide to Classic Farm Tractors features all the classic machines you remember, plus a few rarities, and they are all here in photographed glory.
A classic farm tractor is a conversation starter and a comforting reminder of childhoods on the farm and adulthoods twisting a wrench in the driveshaft. Tractors are cultural touchstones of another era, as familiar as the smell of apple pie baking in a farmhouse kitchen. All of that nostalgia is here in Field Guide to Classic Farm Tractors.
In this photo-saturated guidebook, you'll recognize the big brands of classic farm tractors, such as Allis-Chalmers, J. I. Case, Caterpillar, John Deere, Ford, and International Harvester (including Farmall). Also well-represented are small and no-longer-existing brands like Advance-Rumely, Cockshutt, Eagle, Fate-Root-Heath, Harry Ferguson, Friday Tractor, Hart-Parr, and Minneapolis-Moline. There are tractors from the United States, Canada, and Europe.
Field Guide to Classic Farm Tractors includes more than just handsome color photos of these powerful machines. Each model description includes all the pertinent details: engine RPMs, type of fuel, maximum speed, wheel configurations, weight, number of plows the tractor can handle, and variations.
With more than five hundred tractor models and an array of color photographs depicting the most iconic ones, Field Guide to Classic Farm Tractors is a valued addition to any tractor lover's bookshelf.
About the Author
Robert N. Pripps has authored and co-authored dozens of farm tractor books, including Classic Farm Tractors, Vintage Ford Tractors, Big Book of Caterpillar, Big Book of Massey, and more. Pripps lives near Park Falls, Wisconsin, where he owns a maple syrup farm.