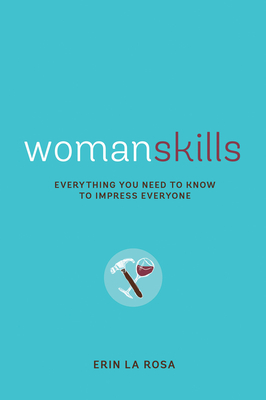 Womanskills (Paperback)
Everything You Need to Know to Impress Everyone
Voyageur Press, 9780760350188, 224pp.
Publication Date: October 15, 2016
* Individual store prices may vary.
Description
"This is the smartest, funniest, most patient friend you can get in book form without that book actually being haunted." - Kristin Chirico, senior editor, BuzzFeed
Womanskills is packed with helpful techniques and tips for cooking, money matters, style, relationships, home improvement, and more. It can help you with advice for how to end a toxic friendship and finding a bra that actually fits. You can turn to it when you get the itch to DIY a new wine rack or chalkboard wall. Or you can flip through to answer those nagging questions like, you know, "why do my houseplants keep dying?"
While you'll find plenty of woman-to-woman information (fighting off cramps, cleaning your makeup brushes, and learning to say "no" to name a few), you'll also find skills to make you more of a badass, like learning how to grill a perfect steak, figuring out how to find a stud in the wall, understanding the stock market, and knowing how to snake a drain. Whether you're headed to a birthday party and need to wrap that odd-shaped present in a hurry or you need a download on whiskey before book club, Womanskills has you covered.
About the Author
Erin La Rosa is a writer and performer living in Los Angeles. She received her MA in writing from the University of Southern California and a BA in fiction from Emerson College. Erin is the Deputy Editorial Director for BuzzFeed and frequently writes about the perils and triumphs of being a redhead, along with her love of whiskey, being an introvert, and various TV shows she's obsessed with. Before BuzzFeed, she worked for the comedy websites Funny or Die and MadAtoms, as well as E!s Fashion Police, Wetpaint, and Ecorazzi. Storytelling has always been a passion for Erin, and she has performed in such storytelling series as MORTIFIED, "Funny but True" at the LA Times Book Festival, and Sunday Night Sex Talks. Her fiction has been published on Storychord and Funny or Die.
Praise For Womanskills: Everything You Need to Know to Impress Everyone…
"Even though I live with a woman, and even lived inside one for a while, until recently I had no way to help them, because I'm a man. Now, however, I can just hand them a copy of the funny, thoughtful Womanskills." - Rob Delaney

"This wise, irreverent compendium of life hacks finds the sweet spot between Amy Sedaris and Worst Case Survival Guides, filling in a much-needed gap in every woman's bag of tricks. An instant classic." - Janet Fitch, author of White Oleander and Paint It Black

"Erin brings her unique brand of charm, cheek, and fierceness to this much-needed how-to guide. Womanskills are human skills, but the voice speaks directly to my powerful generation of ladies. I now know that my bras don't fit, my salary could be higher, and I totally should have proposed to my husband instead." - Jessie Rosen, Time Top 25 Blogger, founder of 20-Nothings.com

"In Womanskills, La Rosa is that know-it-all friend who you don't want to punch in the face. Because she's hilarious and has lots of great advice for navigating that weird period when you're supposed to be an adult but have absolutely no idea how to be." - Lilibet Snellings, author of BOX GIRL: My Part-Time Job as an Art Installation 
 
"I have come to count on Erin for her practical and hilarious wisdom. With Womanskills, you too will have access to her advice-from how to cook like a real adult person to how to survive being single again." - Lucy Keating, author of Dreamology