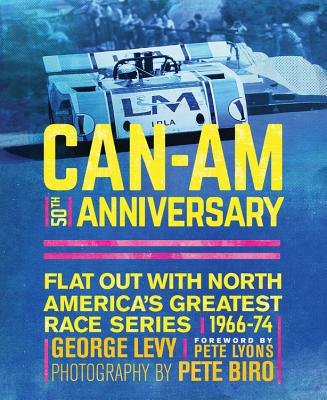 Can-Am 50th Anniversary (Hardcover)
Flat Out with North America's Greatest Race Series 1966-74
Motorbooks, 9780760350218, 256pp.
Publication Date: October 31, 2016
* Individual store prices may vary.
Description
Feel the speed in this dazzlingly illustrated book on the over the top, no limits road racing series that ran between 1966 and 1974 with Can-Am 50th Anniversaryâ??.

2017 Gold Medal Winner of the International Automotive Media Competition! 

The first rule of Can-Am: There are no rules. Or at least damn few rules. The bodywork had to enclose the wheels and there had to be something that loosely resembled a passenger seat--if your passenger was a badly misshapen human or perhaps a lab monkey. Otherwise, set your racing mind free. No limits to engine options or output, no restrictions on aerodynamic aids or body shape. It was as close to unrestricted road racing as racing had ever gotten or would ever get again. And it was fantastic.

From its introduction in 1966 to the end of its classic period in 1974, North America's Can-Am series was the most exciting, technologically advanced, and star-studded racing series of the day. Its essentially rules-free formula attracted everyone from crazed backyard engineers to specialists like McLaren, Chaparral, Shadow, and Lola to manufacturers like Ford, Ferrari, Chevrolet, and Porsche. Top drivers including Mario Andretti, Jackie Stewart, Parnelli Jones, and Bruce McLaren competed on tracks across the US and Canada.

Can-Am 50th Anniversary offers a heavily illustrated look back at what is arguably the greatest race series ever to grace the roadracing circuits of North America. Photographer Pete Biro was Goodyear Tire's official photographer and followed the series throughout the entire run from 1966-'74. The vast majority of the book's images are unpublished or long out of circulation. Biro brings his unique perspective and his close relationship with the drivers, team owners, and constructors to bear on the captions while former AutoWeek editor George Levy provides an exciting text reflecting the thrill of Can-Am racing. 
 
About the Author
Author George Levy is a longtime automotive journalist and marketer with a strong focus on motorsports. He is the former editor of Autoweek magazine and sits on the board of the Motorsports Hall of Fame of America. Levy is based in Detroit, Michigan.
Pete Biro is a photographer who began shooting motorsports in the 1950s, contributing to magazines such as Road & Track and Car and Driver. As his career progressed, his work found greater fame on the pages of outlets such as Time, LIFE, and Sports Illustrated, eventually garnering high-profile clients like the Big Three US automakers and Goodyear Tire. He followed the Can-Am series throughout its 1966 to 1974 glory years, becoming good friends with its top drivers, team owners, and engineers.
Pete Lyons is an international motorsports reporter, photographer and award-winning book author in the fields of Formula 1, Can-Am, Endurance sports cars, Indycar, Trans-Am and many more forms of the sport. In his decades-long, worldwide career, Lyons has authored 14 books and also been a staff and/or freelance contributor of stories and/or pictures to numerous enthusiast publications, including Autosport, AutoWeek, Car and Driver, Road & Track, Vintage Motorsport and many others. His honors include 2 Dean Batchelor Awards for Excellence in Journalism, and a Lifetime Achievement Award.
Praise For Can-Am 50th Anniversary: Flat Out with North America's Greatest Race Series 1966-74…
"Superb, a real work of art."
                             
- Chaparral and Shadow driver Vic Elford
"F-A-B-U-L-O-U-S!!! The pictures, the commentary, and the layout are superb. I worked on the cars at 24 of the races, so it was just great reliving a lot of it."
- Fuel-injection innovator Jim Kinsler
"Can-Am 50th Anniversary, culls the archives of ace lensman Pete Biro for more than 300 images from the original series, many of them never previously published, with racing historian George Levy's storytelling drawn from recent interviews with almost 80 original participants." 
- CarandDriver.com
"[The] book is just fantastic. You've got the facts exactly right, which must have been a product of a lot of hard work and good thinking."
- Driver and broadcaster Sam Posey
"A very impressive production. With 256 pages and hundreds of photographs, it is highly recommended."
 
- BRM driver Howden Ganley in Classic Driver
 
"A great book. One that fans and participants will enjoy."
                   
- 1972 Can-Am champion George Follmer
"I was in Can-Am from the beginning to the end and this book truly portrays the series as it was. The best book I have ever read on motor racing, a 'must have' for every racing fan."   
 
- Canadian driver John Cordts
"A fantastic piece of work. I will treasure it forever."  
 
- 1974 Can-Am champion team manager Michael Hillman
or
Not Currently Available for Direct Purchase