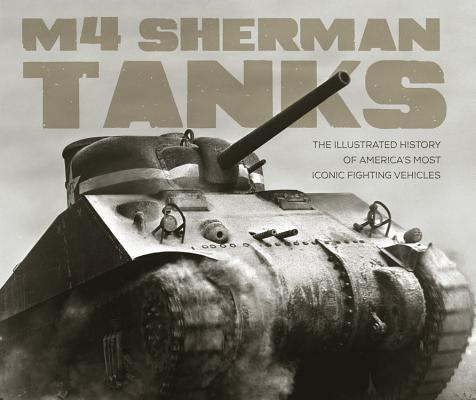 M4 Sherman Tanks
The Illustrated History of America's Most Iconic Fighting Vehicles
Hardcover

* Individual store prices may vary.
Description
Seventy-five years ago the most quintessentially American tank was built: the M4 Sherman, which featured heavily in the Allies' World War II victory and later in films such as "Fury," starring Brad Pitt.
Seventy-five years after it first rumbled into service, the M4 Sherman remains the most quintessentially American tank ever conceived. What the E-unit locomotive is to railroading, what the Corvette is to sports cars, the Sherman tank is to armored military vehicles��a classic example of American ingenuity and design answering a pressing need or desire.
M4 Sherman Tanks is the definitive illustrated history of the Sherman tank, covering the entire scope of its development, manufacture, service, armaments, turrets, tracks, drivetrains, and its many variants. The book begins with the M4's evolution from the M3 and M2 tanks and continues through the rapid production of more than fifty-three thousand units in 1942 and 1943 and the tank's further service among more than fifty nations after World War II.
Photos from the battlefield and the factory floor, exteriors and interiors of Shermans, and war-related ephemera fill the pages. Insightful text examines how the M4's mechanical reliability and ease of maintenance made it a success, as well as how sheer numbers helped it outgun technologically superior German counterparts. The story doesn't end there but continues to include the postwar conflicts in which M4s were employed, including the Korean War, the Indo-Pakistani War of 1965, and the Arab-Israeli Wars.
The M4 Sherman tank is an institution in American--indeed, international--military lore, as synonymous with US military prowess as the P-51 fighter or the Nimitz-class aircraft carrier. This is the complete and authoritative tribute to that legend.
Praise For M4 Sherman Tanks: The Illustrated History of America's Most Iconic Fighting Vehicles…
"This book... gives a balanced, detailed account of the M4's history. The author acknowledges the tank's shortcomings while highlighting the extraordinary versatility of the design and the men who crewed them. The writing is full of interesting vignettes covering the Sherman's development, manufacture, and combat service. The illustrations are equally fascinating."
- WWII History
—
-
Voyageur Press, 9780760350300, 224pp.
Publication Date: July 8, 2016
About the Author
Michael E. Haskew has been writing and researching military history subjects for over twenty-five years. He is the editor of WWII History magazine and The World War II Desk Reference with the Eisenhower Center for American Studies. He is the author of West Point 1915: Eisenhower, Bradley, and the Class the Stars Fell On; Appomattox: The Last Days of Robert E. Lee's Army of Northern Virginia; and Tank: 100 Years of the World's Most Important Armored Military Vehicle, among numerous other publications. He lives in Chattanooga, Tennessee.
or
Not Currently Available for Direct Purchase