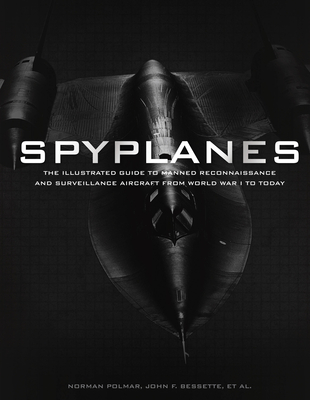 Spyplanes (Hardcover)
The Illustrated Guide to Manned Reconnaissance and Surveillance Aircraft from World War I to Today
Voyageur Press, 9780760350317, 240pp.
Publication Date: December 20, 2016
* Individual store prices may vary.
Description
A comprehensive history with descriptions of the world's most significant aircraft employed as "eyes in the sky."
For as long as there has been sustained heavier-than-air human flight, airplanes have been used to gather information about our adversaries. Less than a decade after the Wright Brothers flew at Kitty Hawk, Italian pilots were keeping tabs on Turkish foes in Libya. Today, aircraft with specialized designs and sensory equipment still cruise the skies, spying out secrets in the never-ending quest for an upper hand.
Spyplanes tackles the sprawling legacy of manned aerial reconnaissance, from hot air balloons to cloth-and-wood biplanes puttering over the Western Front, and on through every major world conflict, culminating with spyplanes cruising at supersonic speeds 85,000 feet above the Earth's surface. Authors Norman Polmar and John Bessette offer a concise yet comprehensive overview history of aerial recon, exploring considerations such as spyplanes in military doctrine, events like the Cuban Missile Crisis and the downing of Francis Gary Powers' U-2, the 1992 Open Skies Treaty, and the USAF's Big Safari program.
Polmar and Bessette, along with a roster of respected aviation journalists, also profile 70 renowned fixed-wing spyplanes from World I right up to the still-conceptual hypersonic SR-72. The authors examine the design, development, and service history of each aircraft, and offer images and specification boxes that detail vital stats for each. Included are purpose-built spyplanes, as well as legendary fighters and bombers that have been retrofitted for the purpose. In addition, the authors feature preliminary chapters discussing the history of aerial surveillance and a host of sidebars that explore considerations such as spyplanes in military doctrine, events like the Cuban missile crisis and the downing of Francis Gary Powers' U-2, the 1992 Open Skies Treaty, and the USAF's current Big Safari program.
From prop-driven to jet-powered aircraft, this is the ultimate history and reference to those "eyes in the skies" that have added mind-bending technologies, not to mention an element of intrigue, to military aviation for more than a century.
About the Author
Norman Polmar is an author and historian specializing in the naval, aviation, and intelligence fields. He has written or coauthored more than fifty books, including Spyplane: The U-2 History Declassified (2001) and, with John Gresham, DEFCON-2: Standing on the Brink of Nuclear War During the Cuban Missile Crisis (2006; foreword by Tom Clancy). The latter was the basis of the Discovery Channel film DEFCON-2, in which Tom Clancy did the opening and closing scenes. Mr. Polmar also has written about aircraft in other books and was author of nine editions of the reference work Ships and Aircraft of the U.S. Fleet and four editions of Guide to the Soviet Navy. He writes a column on historic naval aircraft for Naval History magazine and is a columnist for the US Naval Institute Proceedings.
Lieutenant Colonel John Bessette, US Air Force (Ret), is a veteran Air Force navigator and intelligence officer who flew in various combat aircraft during the Cold War. For three years he flew as navigator in C-97G cargo aircraft configured for spy missions over East Germany and the Baltic region. From May 1968 to August 1969 he was assigned to the 3rd Special Operations Squadron at Bien Hoa Air Base, Vietnam, where he flew more than 1,200 hours as a navigator in AC-47 "Spooky" gunships. A three-year assignment in the Defense Intelligence Agency (DIA) followed, supporting the Joint Chiefs of Staff's Joint Reconnaissance Center (JRC) with assessments on the military and political risks of reconnaissance missions worldwide and the anticipated intelligence gain from them. He subsequently served in NATO air intelligence positions, retired from the Air Force in 1979, and after a year, rejoined DIA as an intelligence analyst specializing in the Soviet and Warsaw Pact air forces. He retired from DIA in 1996 to begin a third career as a researcher and author.
Hal Bryan is EAA's Senior Editor and a lifelong, second-generation pilot and aviation geek. He's logged time in a variety of aircraft types, most of them old and weird, and he wouldn't have it any other way. He lives in Oshkosh with his wife, Muffy, and two benevolent dictators disguised as cats.
A federal historian of nearly 30 years, Michael H. Gorn spent 13 of those years at NASA. He is the recipient of numerous awards and fellowships for his aerospace writing, and has been featured in interviews on BBC, History, and the Discovery Channel. Gorn lives in Simi Valley, California.
Cory Graff is the Military Aviation Historian at the Flying Heritage Collection museum in Everett, Washington. In his free time, he works on aviation-related history projects, including exhibits and books. His articles have been published in Air & Space Smithsonian magazineand the Museum of Flight's Aloft magazine. Graff is the author of five previous aviation books, including Shot to Hell: The Stories and Photos of Ravaged WWII Warbirds, Strike and Return: American Air Power and the Fight for Iwo Jima, and P-47 Thunderbolt at War. He lives in Seattle, Washington.