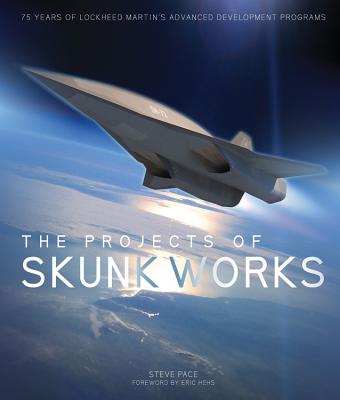 The Projects of Skunk Works
75 Years of Lockheed Martin's Advanced Development Programs
Hardcover

* Individual store prices may vary.
Description
The stories behind more than 50 secret projects undertaken by the famed Lockheed Martin Skunk Works on behalf of the US Armed Forces, DARPA, and the CIA - all illustrated with official Skunk Works photography and commissioned artworks.
Hatched in June 1943 after a special request of the US Army Air Forces to develop a turbojet-powered fighter to counter growing German threats, Lockheed Martin's Skunk Works has gone on to develop remarkable aeronautical and space technologies, including stealth. Some have made it into production, while others never quite made it off drafting boards and computer screens, but proved fascinating nonetheless.
This generously illustrated history tackles Skunk Works programs ranging from jet fighters and jet engines to missiles and rockets, helicopters, research aircraft, airships, unmanned aerial vehicles and recon drones, and even the seagoing stealth ship Sea Shadow - more than 50 in all.
Author Steve Pace examines the historical context which led government organizations to approach the Skunk Works, as well as the technologies and projects developed there (often on a handshake and unburdened by bureaucracies), and the anecdotes and legends associated with each program. Pace includes official Skunk Works photography of the projects taken both at its headquarters and at test facilities such as Area 51. In addition, commissioned color artworks help further illustrate many of these projects featured herein. In addition to profiling legendary aircraft like the F-80, F-94, F-104, U-2, SR-71, F-117, and F-35, Pace takes on more obscure projects from the past as well as those still to come, such as the hypersonic SR-72 and High Speed Strike Weapon, and even offers a peak into what the future might hold with the proposed TR-X.
Voyageur Press, 9780760350324, 256pp.
Publication Date: December 1, 2016
About the Author
Steve Pace is a freelance aviation history writer, a contributing editor to Flight Journal, and the author of numerous articles and short features on a variety of aircraft and related subjects, as well as thirty aviation history books, including The Big Book of X-Bombers and X-Fighters (2016). He was raised in Seattle, Washington, where his father worked at the Boeing Airplane Company for more than thirty years. As the son of an aircraft builder, he became interested in aviation at an early age - instead of buying candy and marbles, he bought model airplane kits. Pace now resides in Tacoma, Washington.
or
Not Currently Available for Direct Purchase