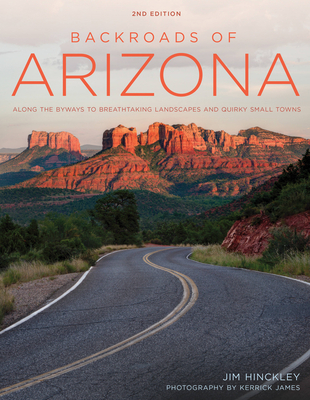 Backroads of Arizona - Second Edition
Along the Byways to Breathtaking Landscapes and Quirky Small Towns (Back Roads)
Paperback

* Individual store prices may vary.
Description
Explore the wide open spaces of Arizona with this guide to roads less traveled and awe-inspiring sights less seen.
Backroads of Arizona guides you into the heart of Arizona's sun-shiny beauty and fascinating history. In this thoroughly updated edition, you'll find twenty-five driving tours and adventures that take you off the beaten path to stunning landscapes and breathtakingly beautiful vistas. Marvel at the multicolored hues of the Painted Desert and the jaw-dropping majesty of the snowcapped San Francisco Peaks. Wander into a sky-high forest of regal ponderosa pines and quaking aspens near Flagstaff, scan the deep blue waters of Lake Havasu on the western border, and feel dwarfed by the incredible Grand Canyon. With scenic drives in all corners of the state, Backroads of Arizona offers insight into Arizona's rich history, from the Spanish conquistadors seeking the legendary cities of gold to the Wild West shootout at Tombstone's OK Corral.
Thanks to the maps and directions to the Grand Canyon State's unique scenic, historic, and cultural attractions, you can explore prehistoric cliff dwellings, hike to see a mountainside of cacti in bloom, or get your kicks on Route 66. This second edition includes new routes along timeless roads, with fresh images and pithy stories of what can be found along the way. Discover something off the beaten path, and make memories you'll never forget.
Voyageur Press, 9780760350355, 176pp.
Publication Date: November 1, 2016
About the Author
About the author:Jim Hinckley moved to Arizona as a young boy in the summer of 1966. While his first impression of the state was that it reminded him too much of "a place warned about in Sunday school," he eventually fell in love with Arizona's colorful, rugged landscape.After spending time as a cowboy, miner, and truck driver, Jim became a regular contributor to the Kingman Daily Miner, writing columns about his two main passions: automobiles and travel. His work has also appeared in a wide variety of magazines, including Route 66, American Road, Old Cars Weekly, and Classic Auto Restorer. Jim is also the author of Checker: An Illustrated History and MBI Publishing Company's The Big Book of Car Culture.He lives in Kingman, Arizona, with his wife.About the photographer:Kerrick James has been a professional photographer for more than twenty years. He moved to Arizona in 1990, and since that time he has specialized in travel imagery. He is a regular contributor to Getty Images; Arizona Highways, Sunset, and National Geographic Adventure magazines; and the magazine for Alaska Airlines. Kerrick lives in Mesa, Arizona, with his wife, Theresa, and their three sons.
Kerrick James has been a professional photographer for more than twenty years. He specializes in travel imagery, and he is a regular contributor to Arizona Highways, Sunset, National Geographic Adventure, and Alaska Airlines Magazine. He lives in Mesa, Arizona.
In his childhood, Jim Hinckley dreamed of being an author. After numerous detours into truck driving, mining, ranching, and a variety of other endeavors, he turned to writing a weekly column on automotive history for his local newspaper, the Kingman Daily Miner, in his adopted hometown of Kingman, Arizona.
From that initial endeavor more than twenty years ago, Hinckley has written extensively on his two primary passions: automotive history and travel. He is the author of Ghost Towns of Route 66 and Backroads of Arizona and a regular contributor to Route 66, American Road, Hemmings Classic Car, and Old Cars Weekly, and he was an associate editor at Cars & Parts. Book reviews and original features on automotive history and travel can be found on his blog, route66chronicles.blogspot.com and on his popular podcast, Jim Hinckley's America & Route 66 Adventures. 
or
Not Currently Available for Direct Purchase