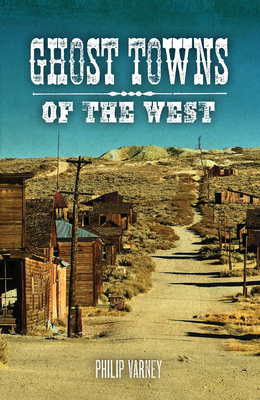 Ghost Towns of the West (Paperback)
Voyageur Press, 9780760350416, 336pp.
Publication Date: April 11, 2017
* Individual store prices may vary.
Description
Ghosts Towns of the West is filled with photographs, maps, history, and detailed directions to find the best ghost towns to linger in the wake of the Old West.
Ghost Towns of the West blazes a trail through the dusty crossroads and mossy cemeteries of the American West, including one-time boomtowns in Arizona, California, Colorado, Idaho, Montana, Nevada, New Mexico, Oregon, Utah, Washington, and Wyoming. The book reveals the little-known stories of long-dead soldiers, indigenous peoples, settlers, farmers, and miners.

Perfect for planning a road trip, each section covers a geographic area and town entries are arranged by location to make this the most user-friendly book on ghost towns west of the Mississippi. Most ghost towns are within a short drive of major cities out West, and they make excellent day trip excursions. If you happen to be in or near Los Angeles, Phoenix, Las Vegas, or El Paso, for example, you ought to veer towards the nearest ghost town. Western ghost towns can also easily be visited during jaunts to national parks, including Grand Canyon, Yosemite, Crater Lake, Mount Rainier, Glacier, Yellowstone, and many others throughout the West.
Ghost Towns of the West is a comprehensive guide to former boomtowns of the American West, covering ghost towns in eleven states from Washington to New Mexico, and from California to Montana. This book has everything you need to learn about, visit, and explore a modern remnant of how life used to be on the western range.
About the Author
Phillip Varney is the author and photographer of seven books about ghost towns. He has toured and photographed more than six hundred ghost towns throughout the American West. He lives in Tucson, Arizona.
Jim Hinckley has written numerous critically acclaimed and best-selling books, and hundreds of feature articles about travel, and Route 66. His books are provided as part of a tour package by companies based in Norway and Australia. Hinckley also regularly assists with tour development, meets with tour groups and individuals traveling Route 66, serves as a Route 66 tourism development consultant for Ramada, and is a featured speaker at the Miles of Possibilities conference that is part of the 2015 Route 66 convention. Recently he accepted a position on the Route 66 Economic Development Committee that is a part of the Route 66: The Road Ahead Initiative facilitated by the National Park Service Route 66 Corridor Preservation Program.