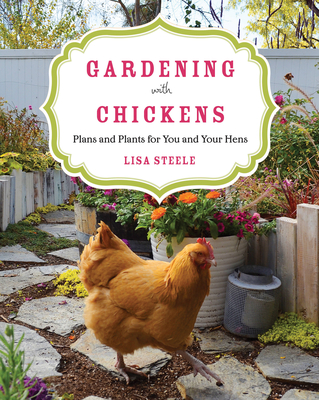 Gardening with Chickens
Plans and Plants for You and Your Hens
Paperback

* Individual store prices may vary.
Description
Welcome to a world where chickens and gardens coexist!
Join Lisa Steele, chicken-keeper extraordinaire and founder of Fresh Eggs Daily, on a unique journey through the garden. Start by planning your garden and learning strategies and tips for keeping your plants safe while they grow. Plant with purpose, choosing from a dozen plans for theme gardens such as Orange Egg Yolks or Nesting Box Herbs. Or choose a design that's filled with edibles - sharing the bounty with your family and your feathered friends. Then comes the fun part: enjoy the harvest, even let the chickens graze!
Lisa's friendly writing, together with inspirational photos and illustrations, will have you rolling up your sleeves and reaching for your gardening tools. Lisa also covers a range of topics just for chicken-keepers, including:
- Chickens and composting
- Using chickens to aerate and till
- Coop window boxes
- Plants to avoid when you have chickens
- Lists of the most valuable crops and herbs
- Advice on how to harvest and use many of the plants
- And much more!
Whether you're an experienced chicken keeper, master gardener, or just getting into these two wonderful hobbies, Gardening with Chickens is an indispensable guide for a harmonious homestead.
Praise For Gardening with Chickens: Plans and Plants for You and Your Hens…
"If you've enjoyed Lisa's popular blog, you'll definitely love this book, which is written in the same encouraging, confident, and often humorous voice. Beautifully photographed and filled with eye-catching illustrations, this will become an instant classic…"
- Niki Jabbour, author of Groundbreaking Food Gardens and The Year Round Vegetable Gardener
"Raising Backyard Ducks" episode with Lisa Steele
- Living Homegrown Podcast, Living Homegrown Podcast
"Overall, "Gardening with Chickens" is an excellent how-to vegetable gardening book, woven throughout with information on chickens, as if they were simply another standard option in food growing, just like raised beds."
- Phoenixvillenews.com
"If you're looking for a great guide on raising chickens in your garden, I suggest getting Steele's book."  
- Community Table/Parade.com
"But can a garden—especially a tempting vegetable garden—peacefully coexist with hungry, inquisitive chickens, with their potential to eat tender seedlings, and shred plants with their scratching? It's a smart subject for a book, and the answer, says Gardening With Chickens author Lisa Steele, is that they can not only coexist, but each can benefit the other." - GardenSmartTV
"This is a must read for any gardener considering chickens or chicken keeper considering a garden…there is so much gold in this book."
- Sara Bendrick, Landscape contractor/designer and national TV host
"Lisa's writings have been my go-to chicken resource. Gardening with Chickens taught me new ways to garden as I continue my chicken-keeping journey. A must read!"
- Helen Yoest, author of Gardening with Confidence
"Lisa has found that perfect balance we all strive for—living symbiotically with the land around her. This book is a beautiful roadmap for how we can all have a piece of that in our lives, no matter where we live."
- Georgia Pellegrini, chef, TV personality, and author of Modern Pioneering, Girl Hunter, and Food Heroes
Voyageur Press, 9780760350478, 176pp.
Publication Date: November 4, 2016
About the Author
Lisa Steele is a fifth-generation chicken keeper who has been around chickens most of her life, so it's no surprise she has made her name raising her own backyard flock and sharing her farming adventures. Lisa is also an aspiring herbalist and avid gardener who shares tips and advice on both her award-winning Fresh Eggs Daily blog and Facebook page of the same name. She holds a Maine Master Gardener certification and her popular website has been named one of Better Homes & Gardens Top Ten Gardening Blogs. 

A regular contributor to such publications as Hobby Farm and Chickens magazine, as well as HGTVGardens.com and BHG.com, Lisa has become the most trusted voice in natural chicken keeping. She has been featured in the Wall Street Journal and on NPR, and has appeared on PBS and the Hallmark Home and Family show. She is currently hosting her own "chicken lifestyle" television show Welcome to my Farm on Maine's NBC affiliate News Center Maine. 

She is the author of Let's Hatch Chicks!, Gardening with Chickens, Fresh Eggs Daily, and Duck Eggs Daily, and tours the country speaking and signing books at the Mother Earth News and Country Living fairs. Lisa lives on a small farm outside of Bangor, Maine, with her mixed flock of chickens, ducks, and geese as well as a corgi and barn cat.