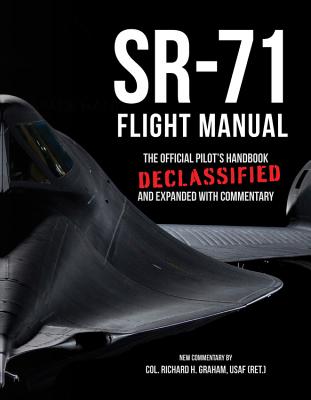 SR-71 Flight Manual: The Official Pilot's Handbook Declassified and Expanded with Commentary (Paperback)
The Official Pilot's Handbook Declassified and Expanded with Commentary
Voyageur Press (MN), 9780760351741, 1040pp.
Publication Date: October 1, 2016
Description
This is the reprinted facsimile edition of the manual issued to crew members of the US Air Force's sleek SR-71, now available with photos and annotations by former Blackbird pilot Richard Graham.
The Lockheed SR-71 Blackbird was a long-range, Mach 3 reconnaissance aircraft developed by Lockheed's top-secret Skunk Works. One of the first aircraft designed to have a low radar signature, the SR-71 could map 100,000 square miles from an altitude of 80,000 feet. Operational from 1964 to 1998, it is still the fastest jet-powered aircraft - a Blackbird once completed a Los Angeles-to-Washington, D.C. flight in 64 minutes. Naturally, reigning in all that technology and performance required some know-how on the parts of the pilots and ground crews. This massive volume, the SR-71 Flight Manual, is a facsimile reprint of the official flight manual issued to SR-71 crew members augmented with anecdotes and and descriptions of flight procedures from former SR-71 pilot Col. Richard Graham (Ret.). Divided into seven sections, the book covers in minute detail everything from the SR-71 trainer to normal and emergency operation procedures, navigation and sensor equipment, operating limitations, flight characteristics of the Blackbird, and all-weather operation.
Now the official SR-71 flight manual is not only declassified, it's (at least partially) demystified as well
About the Author
A veteran of fifteen years of assignments within the SR-71 community, Colonel Richard H. Graham is uniquely qualified to tell the Blackbird's story. Crew member, instructor pilot, chief of the standardization/evaluation division, Colonel Graham was named SR-71 Squadron Commander, 1st Strategic Reconnaissance Squadron, in January 1981. A command pilot with more than 4,600 military flying hours, he has earned military decorations and awards including the Legion of Merit, Distinguished Flying Cross with three oak leaf clusters, Air Medal with eighteen oak leaf clusters, Air Force Commendation Medal, Air Force Outstanding Unit Award with "V" device and one oak leaf cluster, Air Force Organizational Excellence Award, Combat Readiness Medal with one oak leaf cluster, National Defense Service Medal, Armed Forces Expeditionary Medal, Vietnam Service Medal with four service stars, Republic of Vietnam Gallantry Cross with palm, and the Republic of Vietnam Campaign Medal. Colonel Graham's books on the SR-71 include SR-71 Revealed: The Inside Story and SR-71 Blackbird: Stories, Tales and Legends. He lives in Plano, Texas.
Advertisement