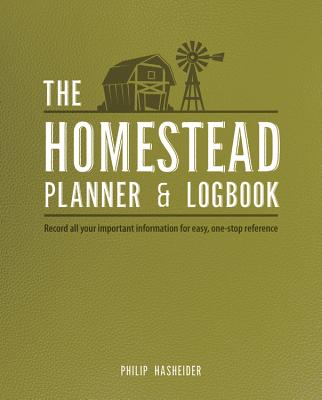 The Homestead Planner & Logbook (Paperback)
Record All Your Important Information for Easy, One-Stop Reference
Voyageur Press, 9780760351918, 128pp.
Publication Date: November 1, 2016
* Individual store prices may vary.
Description
Easily keep track of the work you've put into your homestead or small farm - or figure out the work you need to put into it - with the help of this convenient planner.

Having a hard time keeping the maintenance schedules straight for your machinery? How about your water records and soil-test data? Your crop or livestock records? Ideal for homesteaders and small farmers working anything from 2 to 40 acres, The HomesteadPlanner & Logbook provides one place to record and organize all the information that you should have readily available.

Specially developed logbook pages cover several categories, including:
-Safety
-Outbuildings
-Electrical Service
-Water and Septic
-Fencing
-Crops
-Livestock
-Machinery
-Woodlots
-and more!
Why not just use a blank notebook? Because this volume, in addition to including journal templates developed specifically for each of the topics covered, also includes practical advice for every aspect of your homestead. Plus, two large pockets provide places to store receipts, warranties, and other documents, so you won't have to scramble the next time you need them!
About the Author
Philip Hasheider is a fifth-generation farmer raising pasture-grazed livestock with his wife and two children near Sauk City, Wisconsin. A former cheesemaker's assistant, his interests in agriculture and history have led him to write eleven books, including Voyageur Press' The Complete Book of Butchering, Smoking, Curing, and Sausage Making and The Hunter's Guide to Butchering, Smoking, and Curing Wild Game and Fish. He has also penned how-to books for raising livestock, which include How to Raise Pigs and How to Raise Cattle. Hasheider has written numerous articles for national and international dairy breed publications, and his diverse work has appeared in the Wisconsin Academy Review, the Capital Times, Wisconsin State Journal, Sickle & Sheaf, and Old Sauk Trails.
or
Not Currently Available for Direct Purchase