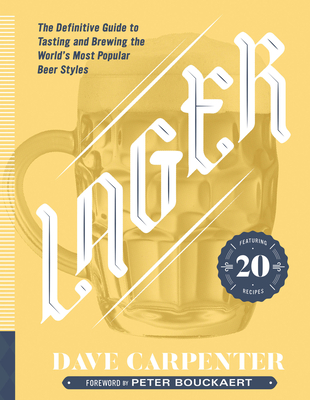 Lager (Hardcover)
The Definitive Guide to Tasting and Brewing the World's Most Popular Beer Styles
Voyageur Press, 9780760352151, 240pp.
Publication Date: October 1, 2017
* Individual store prices may vary.
Description
"The world of lagers contains many of the world's most delicious and beguiling beers. Dave Carpenter dives into this world with gusto, verve, and precision."
—Garrett Oliver, Brewmaster, The Brooklyn Brewery, Editor-in-Chief, The Oxford Companion to Beer

Lagers are being reinvented in the United States and abroad as intrepid breweries are rediscovering the joys of colder fermentation and pushing lagers well beyond the realm of pilsner. Lager offers a complete tasting guide to the full spectrum of lager styles, from Munich Helles and Festbier to California Common and Baltic Porter. Taste along and find your new favorite lager! This book also answers such historical and contextual questions as:
Why does lager, not ale, dominate world beer production, despite its comparative difficulty to produce?
Why are certain European styles like Vienna lager more associated with brewing in Mexico than on the Continent?
What does St. Louis have to do with Ä?eské BudÄ?jovice?
What role does lager play in today's expanding craft beer landscape?
For homebrewers, Lager includes key brewing considerations as well as a selection of lager recipes. 
About the Author
Dave Carpenter is longtime beer and homebrewing writer and the Editor in Chief of Zymurgy magazine, the second largest magazine dedicated to homebrewing and the official magazine of the American Homebrewers Association (a division of the Brewers Association). Dave was formerly Contributing Editor for Craft Beer & Brewing, and helped the company grow since its launch in 2014. During his time at Craft Beer & Brewing, Dave also ran events such as the Brewers Retreat and worked with commercial brewers such as John Mallett of Bell's Brewing, Matt Brynildson of Firestone Walker, and Steven Pauwels of Boulevard Brewing on homebrew recipe scaling. Dave holds degrees from MIT and the University of Colorado at Boulder. He is a BJCP recognized beer judge.