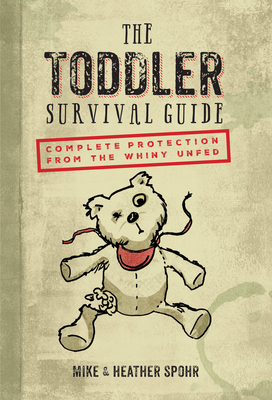 The Toddler Survival Guide
Complete Protection from the Whiny Unfed
Hardcover

* Individual store prices may vary.
Description
Get the baby gates, lock the cupboards, and load up Elmo's Song, toddlers are on the loose. The Toddler Survival Guide is here to get you to the other side.

Toddlers and zombies both communicate mainly through groans, clumsily trail after you everywhere you go (especially into the bathroom in the toddler's case), and--upon entering your life--leave you frazzled, on edge, and deeply sleep deprived.
The Toddler Survival Guide is a hilarious parody of Max Brooks's The Zombie Survival Guide (and survival guides in general) that will leave parents laughing out loud even as it provides practical advice on how they can make it to the other side of toddlerhood intact. Written by parents who have studied toddlers up-close in their natural habitat, the book will cover survival skills including how you can outfit your home to outlast a toddler occupation (baby gate, cabinet locks, wine), how you can subdue an angry toddler ("Elmo's Song," mac and cheese, smartphone) and even how you can safely venture out in public together without your toddler--or you--bursting into tears.
Chapters include: Preparing the Home for a Toddler Invasion, Communicating with Your Toddler, Feeding a Toddler, Socializing Your Toddler, Grooming Your Toddler, Venturing into Public with a Toddler, Documenting Your Life with a Toddler, Vacationing with a Toddler, Toddler Entertainment and Birthdays, Surviving Bedtime and Potty Training, Technology and the Toddler, and Parental Self-Preservation.
Praise For The Toddler Survival Guide: Complete Protection from the Whiny Unfed…
The scariest part about The Toddler Survival Guide is that it's all true! Build a bunker, buy a copy of this book, and read every single word. And may God have mercy on your soul.
- Matt Logelin, author of New York Times Bestseller Two Kisses for Maddy
Equal parts terrifying and hilarious, much like toddlers themselves...or zombies, if you tie their shoelaces together.
- Jenny Lawson, author #1 New York Times Bestseller Lets Pretend This Never Happened
Your toddler will try to destroy you, but thanks to this guide you will always have the upper hand. The world needs this book!
- Mary Ann Zoellner, Emmy Award winning producer of NBC The Today Show
Voyageur Press, 9780760352199, 192pp.
Publication Date: August 1, 2017
About the Author
Mike Spohr is an editor at BuzzFeed, where he runs the Parents and Family vertical. He is notorious for his love of Diet Coke, the Beatles, and the San Francisco Giants, but loves his wife, kids, and dog even more. Follow him on Twitter @TheNewBornIdenity
Heather Spohr started blogging on a whim back in 2002. She's since blogged through cross-country moves, job changes, pregnancy, loss, and all the other things life has thrown at her. Heather has worked in the A and R department at a major record label and in sales for a professional baseball team, but now she's a writer and Los Angeles Editor at Mommy Nearest (www.mommynearest.com). She works when her kids are sleeping, which usually means about five hours of sleep a night. Somehow, it works. Heather is also a contributor at FM in the AM (fmintheam.tv), a featured panelist for Momversation (www.momversation.com), and has a column over at Babble (www.babble.com).
or
Not Currently Available for Direct Purchase