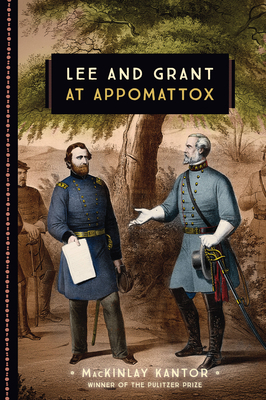 Lee and Grant at Appomattox (833) (Paperback)
Young Voyageur, 9780760352267, 208pp.
Publication Date: October 15, 2016
* Individual store prices may vary.
Description
From the Pulitzer Prize winning author of Andersonville comes the story of an unforgettable moment in American history: the historic meeting between General Robert E. Lee and General Ulysses S. Grant that led to the surrender of Lee's Army of Northern Virginia--and ultimately to the end of the Civil War.

MacKinlay Kantor's book for young readers captures all the emotions and drama of those few days in April 1865: Lee's mingled sorrow and relief, Grant's generosity toward his late opponent and the nearly starving Confederate soldiers; and the two commanders' negotiation of surrender terms intended to help heal the wounds of more than four years of the most violent conflict in American history.
About the Author
Novelist, journalist, and screenwriter MacKinlay Kantor began his career in 1928, writing pulp fiction pieces for magazines of the day. His first novel, Long Remember, published in 1934, was set during the Battle of Gettysburg and began the author's lifelong interest in the Civil War. During World War II, Kantor served as a war correspondent in Europe, chronicling such events as the American bombing campaign against Germany and the liberation of the Buchenwald concentration camp. After the war, Kantor resumed his creative writing career. His novel Glory for Me (1945), written in blank verse, was the basis for the screenplay for the successful Hollywood film The Best Years of Our Lives, which won 7 Academy Awards. His novel Andersonville, about the notorious Confederate prison camp, won the 1956 Pulitzer Prize for fiction. By the time of his death in 1977, he had authored more than 30 books, including four works for young readers.
or
Not Currently Available for Direct Purchase