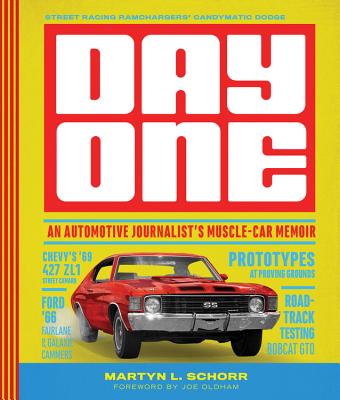 Day One (Hardcover)
An Automotive Journalist's Muscle-Car Memoir
Motorbooks, 9780760352366, 208pp.
Publication Date: November 21, 2017
* Individual store prices may vary.
Description
In Day One, automotive journalist Marty Schorr recalls life on the front line in the classic muscle car era, thrashing brand-new cars that would become collector vehicles.

Most muscle-car books celebrate beautifully-restored vehicles surrounded by hard facts; Day One tells the real story from the point-of-view of one of the period's most respected automotive journalists, Marty Schorr. For the first time in print, you'll get a unique perspective on what it was like to actually drive, race, and otherwise thrash what are some of today's most valuable collector cars.

CARS, the iconic magazine Marty wrote and edited didn't rely on industry advertising for revenue. Instead, the magazine made money the old fashioned way, from newsstand sales, leaving it able to be honest and frank in its coverage of high-performance street cars. CARS magazine reported on both Day stock and modified cars, cars the traditional magazines wouldn't touch, like the ultra-high-performance vehicles from companies like Baldwin-Motion, Yenko Chevrolet, Nickey Chevrolet, Royal Pontiac, and Tasca Ford. 

Prepare yourself for Day One to cover the most important cars of a given year, including:
Pontiac's 1962-1963 lightweight Super-Duty 421 street and Swiss Cheese models
Chevrolet's 1963 big-block 427 Mystery Motor and ZL-1 Impala.
Ford 1963 ½ 427/425 Galaxie fastback
The 1964 Ramchargers
The first 426 Street Hemi
Cotton-Owens prepared Hemi Coronet
A 1966 Olds Twin-Engined (850 cubic inches) Grant Toronado, currently owned by Jay Leno
A prototype 1966 Plymouth 426 Street Hemi Satellite
One of two 427 SOHC Galaxies prototypes
A '67 Royal Bobcat GTO
Plymouth's original '68 Hemi Road Runner
Hurst-built Plymouth & Dodge 1968 Hemi-Darts and Hemi-Cudas
 
About the Author
Martyn L. Schorr has a history with high-performance cars that dates back to the beginning of Ford's Total Performance era over fifty years ago. He rode with Carroll Shelby and was at the press conference in New York for the debut of the Lola-built Ford GT that became the GT40. Schorr drove the GT40 on streets of New York City and went with Mickey Thompson in 1969 to Bonneville to set a book full of records. He personally knew all the key players from Ford's racing program from his years as a magazine editor. Schorr is the author of Motion Performance (Motorbooks, 2009).
Joe Oldham (1943 - 2017) was a journalist whose career began in 1964 when he earned the position of writer/editor for Magnum Royal Publications, where he road-tested every muscle car for magazines such as Hi-Performance Cars, Speed & Supercar, and Supercars Annual until 1976. He spent the next 32 years at The Hearst Corporation, and the next 18+ as editor-in-chief of Popular Mechanics.
Praise For Day One: An Automotive Journalist's Muscle-Car Memoir…
"Put simply, this is the best automotive book I have read in years."
- Custom Car Magazine
"Day One is amazing. It's an incredible wealth of information delivered in a very creative and engaging way. It covers my formative years as a car enthusiast and designer and has got to be the most complete book on the subject. Thanks for writing it."
- Ed Welburn, retired Vice-President Global Design, General Motors
"We give this book an enthusiastic two thumbs up- it is a wonderful read and a truly unique take on the era." 
- Poncho Perfection Magazine
"There are loads of fascinating period photos of just about every imaginable muscle car variant from 1961 to 1973."
- Octane Magazine
"Imagine what it might be like to drive around the streets of New York for a week in a Ramchargers Dodge Super Stocker, complete with candy-striped paint and lettering. Or to have open access to all the big-block Chevy muscle monsters hand-built by the Baldwin-Motion crew. These are just a few of the priceless stories in Day One, accompanied by a stunning collection of period photos that have seldom if ever been published before. Cutting to the chase, this is a must-have books for fans of the muscle car era. You'll be educated and enthralled—we guarantee it." 
- Mac's Motor City Garage
"There are a ton of books about muscle cars and the "muscle car era", but none captures the feel and excitement of those days better than Marty Schorr's memoir – Day One. During my years in the Army (1966-69), it was High Performance Cars and Car & Driver that kept me up to date on the happenings. Schorr nailed "the way it was" and I hope everyone who "missed" the era reads Day One."
 
- Craig Sparkes, Editor of No Limits e-magazine,
"The foreword was written by the late Joe Oldham, a columnist for Hemmings Muscle Machines and a long-time friend of the author, and his closing paragraph should be reason enough to include the book on your shelf: 'This book continues Marty's philosophy of pleasing the reader. I think you'll find some of the best stories about some of the most fascinating muscle cars Marty encountered in his years as an editor. And all with a New York attitude.'"
- Hemmings Daily
"Schorr's war stories about today's highly sought-after classic cars - as well as the people behind the badges, motors and antics put the reader inside the wild west. "Day One" is also a historical treat for anyone who owns - or plans to buy - one of today's performance cars which can easily pack 400 horses and up."
- The Houston Chronicle
"For those of us who weren't around to experience the arrival of some of the most legendary machines in automotive history, Schorr puts us in the driver's seat by relaying his first-hand experiences with the most incredible muscle cars."
- Maxim