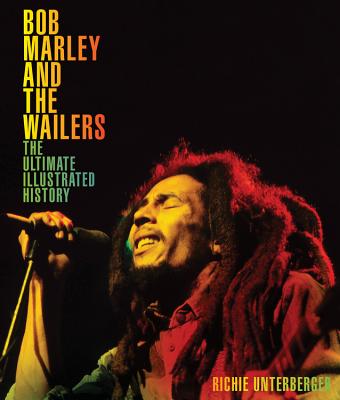 Bob Marley and the Wailers (Hardcover)
The Ultimate Illustrated History
Voyageur Press, 9780760352410, 208pp.
Publication Date: September 1, 2017
* Individual store prices may vary.
Description
Well over three decades after Marley's death, he and his bandmates remain the most famous reggae artists of all time. Bob Marley and the Wailers explores their legacy.

Illustrated with photos and memorabilia from all phases of their journey, Bob Marley and the Wailers illuminates the lives and times of the man and his collaborators. Indeed, the Wailers are one of the most famous bands of all time, period. Their evolution from early-60s Jamaican ska act to international superstars was not just improbable, but unprecedented for an act from a third-world nation.

The entire, incredible journey of Marley and the Wailers is covered in this visual history. You will see the crucial role they played in establishing reggae as a globally popular form of music, and the influence that the Rastafari movement had on their lives and sound. Plus, how Marley's socially conscious lyrics and actions made him a universal symbol of pride and justice. This tribute takes you through the entire story, right up to Marley's untimely death in 1981, and his enduring legacy beyond.
About the Author
Richie Unterberger is the author of numerous rock history books. The first of these, Unknown Legends of Rock 'n' Roll (1998), profiles underappreciated cult rock artists of all styles and eras; the next, Urban Spacemen & Wayfaring Strangers: Overlooked Innovators & Eccentric Visionaries Of '60s Rock (2000; also available as revised/updated 2013 ebook edition), features in-depth surveys of 20 underrated greats of the era. Turn! Turn! Turn!: The Folk-Rock Revolution (2002) and its sequel, Eight Miles High: Folk-Rock's Flight from Haight-Ashbury to Woodstock (2003) cover the history of the 1960s folk-rock movement. Turn! Turn! Turn! and Eight Miles High have been combined into the ebook Jingle Jangle Morning: Folk-Rock in the 1960s, which adds new and updated material.

The Unreleased Beatles: Music and Film won a 2007 Association for Recorded Sound Collections Award for Excellence in Historical Recorded Sound Research in the "Best Discography" division of the "Best Research in Recorded Rock Music" category. His most recent books are White Light/White Heat: The Velvet Underground Day-By-Day (2009) and Won't Get Fooled Again: The Who from Lifehouse to Quadrophenia (2011). His most recent book is Fleetwood Mac: The Ultimate Illustrated History (2016), published by Voyageur Press.

Unterberger is also author of The Rough Guide to Music USA, a guidebook to the evolution of regional popular music styles throughout America in the 20th century, and The Rough Guide to Jimi Hendrix. He is a frequent contributor to MOJO and Record Collector, and has written hundreds of liner notes for CD reissues. He teaches courses on rock music history at the College of Marin, the University of San Francisco, and City College of San Francisco. He lives in San Francisco.
Praise For Bob Marley and the Wailers: The Ultimate Illustrated History…
"Thoroughly enjoyable for old fans as well as the merely curious..."
 
 
- Shepherd Express
or
Not Currently Available for Direct Purchase