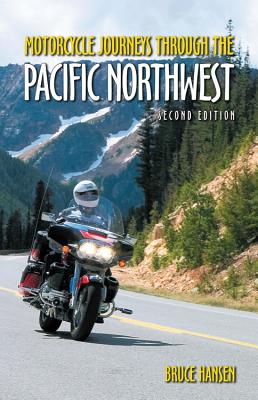 Motorcycle Journeys through the Pacific Northwest (Paperback)
Motorbooks, 9780760352694, 320pp.
Publication Date: October 1, 2016
Other Editions of This Title:
Paperback (5/1/2005)
* Individual store prices may vary.
Description
An important update to his very popular first edition, Hansen's enthusiasm for exploration comes through in this full-color, fully-detailed tribute and guide to the great roads of America's Pacific Northwest. Both visitors to the region and lifetime locals will enjoy and learn from the 30+ trips that Hansen has planned and perfected. Designed from top to bottom for motorcyclists, this new second edition includes topographical maps for each trip, specific directions, and tips on the best places to eat, sleep, and visit. Hansen guides motorcyclists through the areas around Seattle and Portland, up and down the coats of Washington, Oregon, and northern California, around the volcanos of Mt. Saint Helens, Mt. Hood, and Mt. Ranier, across the desert of Oregon, out to the San Juan Islands, and over the border into parts of British Columbia. Riders will see everything from the most interesting places in the region's history, to the hills, inlets, islands, and valleys that make the American Northwest a favorite among motorcycle enthusiasts.
About the Author
Bruce Hansen lives in Portland, Oregon and spends most of the good weather riding and writing about the best motorcycling roads in the Pacific Northwest. He is a contributor to Morotcycle Cruiser, Rider, RoadBike, American Iron, and Motorcycle Voyager magazines. When he's not on his bike, behind his camera, or in front of his computer, he teaches a distance writing class through Portland State University.
Praise For Motorcycle Journeys through the Pacific Northwest…
"Journeys Through the Pacific Northwest does an outstanding job of uncovering scenic routes through four states and British Columbia. Author Bruce Hansen serves up important details for each exhaustively researched road, like the best places to eat and sleep, and backs it up with intimate knowledge of the region." - Motorcycle Cruiser
"Bruce Hansen is a generous guy. He knows the roads around Washington, Oregon, Northern California and British Columbia and wants to share. The second edition of Hansen's "Motorcycle Journeys Through the Pacific Northwest" reads like a conversation with a friend. Hansen says he doesn't pretend to know every place to stop for a photo or to get a good slice of pie, but he seems to come close. With a palpable enthusiasm for the open road, he urges riders to get out of Portland, to head out along rivers, through forested wilderness or to the coast. The full color photos in this travel guide will make you long for summer. When he's not out riding, Hansen teaches writing through Portland State University." - Oregonian