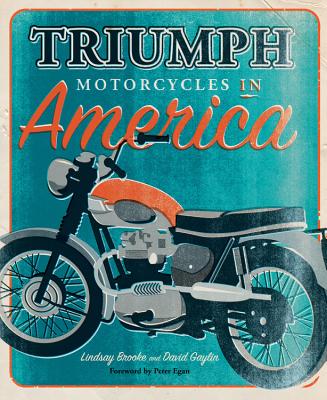 Triumph Motorcycles in America (Hardcover)
Motorbooks, 9780760353288, 224pp.
Publication Date: January 2, 2018
* Individual store prices may vary.
Description
This is a comprehensive, visual history of the motorcycles from Britain that were bred in the US and Canada. Tuck in with Triumph Motorcycles in America and get ready for the ride of a lifetime.

Triumphs have been part of North America's motorcycling soul since long before World War II. Born in Britain but bred in the US and Canada, Triumph's iconic models—Bonneville, Trophy, Thunderbird, Daytona, Tiger, Speed Twin, Speed Triple, and Rocket III—resonate deeply with enthusiasts who love their style, sound, performance, and undeniable coolness. It's not coincidental that Triumph was Steve McQueen's favorite ride.

Triumph Motorcycles in America is packed with thorough, entertaining text, plus hundreds of historical images, most of them in color and never before published. This incredible volume of history and culture was written by award-winning professional journalist and lifelong Triumph fanatic Lindsay Brooke, with a foreword by America's favorite "Triumph guy," Peter Egan. Don't think twice about it, Triumph Motorcycles in America is a must-have for every fan of Britain's most legendary bike brand.
About the Author
Detroit-based auto writer Lindsay Brooke has been covering automotive and motorcycle technology and history for more than thirty years. He is editor in chief of Automotive Engineering magazine, published by the SAE. A longtime British motorcycle enthusiast, historian, and owner of multiple Triumphs, Brooke has authored two other Triumph titles for Motorbooks. He and David Gaylin are widely acknowledged as experts on Triumph's American story.
Growing up in Baltimore near the Triumph Corporation, David Gaylin's first bike was a 1970 Bonneville. After TriCor closed in 1975, he was able to acquire truckloads of internal memoranda, brochures, photos, manuals, and service bulletins. This vast archive became the foundation this book and later Gaylin's popular Triumph Bonneville and TR6 Restoration Guide. His latest book is an illustrated history of the Wall of Death.
Praise For Triumph Motorcycles in America…
"I'm glad I waited almost 25 years, because Motorbooks has just released a revised edition. It is now a hefty coffee table size 224-page hardcover. In it, Brooke and Gaylin have uncovered more period images and added some insightful research. This includes an entire chapter, titled Oh, Canada! Maple Leaf Triumph Pioneers."
- Driving.ca
"There's a brand new, terrific book out that will tell you everything you've ever wanted to know about one of the world's most popular motorcycle brands: the British Triumph."
- Easy Rider Magazine