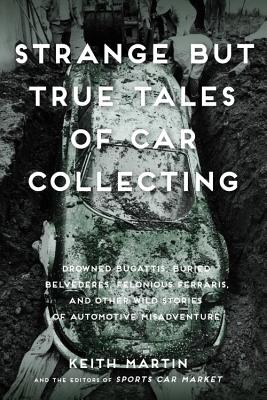 Strange But True Tales of Car Collecting (Paperback)
Drowned Bugattis, Buried Belvederes, Felonious Ferraris and other Wild Stories of Automotive Misadventure
Motorbooks, 9780760353608, 256pp.
Publication Date: October 24, 2017
Other Editions of This Title:
Hardcover (8/26/2013)
* Individual store prices may vary.
Description
Strange But True Tales of Car Collecting recounts the wildest car-collecting stories, focusing on tales of the most eccentric and over-the-top collectors and collections from around the world. 

Most car collectors exhibit a healthy enthusiasm for their hobby with a tendency to dig into their favorite marques, chase parts, swap stories, and generally live the car-guy lifestyle. Some, however, step over that fine line between enthusiasm and obsession--and that's the dusty place where these legendary car-collector stories come from.
 
Have you heard of the fellow who squirrelled away dozens of Chevelles, Camaros, and other classic muscle cars in semi-trailers? How about the president of Shakespeare fishing rods who sold 30 Bugattis for a mere $85,000? What about the English nobleman who cut up and buried his Ferrari horde in an elaborate insurance scam? Or how about the Duesenberg abandoned in a Manhattan parking garage for decades only to be uncovered by Jay Leno? They only get crazier from there.
About the Author
Keith Martin has been involved with the collector car hobby for over thirty years. As a writer, publisher, television commentator, and enthusiast, he is constantly on the go, meeting collectors throughout the world. Keith founded the Sports Car Market magazine twenty years ago, and it has developed into the authoritative, informed voice of the collector car hobby.