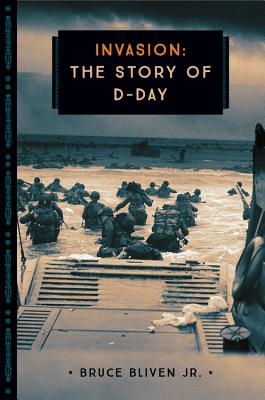 Invasion (Paperback)
The Story of D-Day (833)
Young Voyageur, 9780760354360, 176pp.
Publication Date: September 1, 2017
* Individual store prices may vary.
Description
Invasion is a full account of D-Day from the point of view of Bruce Bliven, Jr., a soldier who was actually there on that grueling day. 

It's the most famous amphibious invasion in history; thousands of ships, millions of soldiers and sailors, all clashing on the beaches of Normandy on June 6, 1944.

Author Bruce Bliven, Jr. was there when it happened and his narrative captures the massive scale of the invasion, from the planning stages through the brave landing on the shore. You'll be amazed by the full-color photography that illustrates the courage and resolve of the soldiers responsible for the battle that turned the tide of the war. 

This incredible narrative account of history will give you a new perception of this hellacious day, plus, specially commissioned extras like an all new map, cast of major players, and timeline will let you wrap your mind around this intricate assault.
About the Author
Bruce Bliven, Jr. was a journalist and author who served as an artillery lieutenant in World War II. Present at the D-Day landings, he wrote Invasion, he said, "to find out what happened."