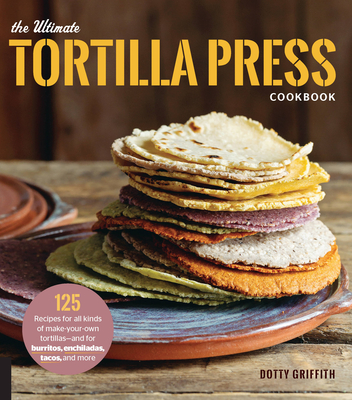 The Ultimate Tortilla Press Cookbook (Paperback)
125 Recipes for All Kinds of Make-Your-Own Tortillas--and for Burritos, Enchiladas, Tacos, and More
Harvard Common Press, 9780760354889, 208pp.
Publication Date: January 9, 2018
* Individual store prices may vary.
Description
Warm, fresh homemade tortillas beat store-bought any day of the week. Dotty Griffith reveals how easy it is to make these authentic and rustic round flatbreads, with scrumptious recipes for corn and wheat tortillas, gluten-free tortillas, and tortilla spin-offs like gorditas and sopes; great ideas for exciting flavored tortillas, using spices, tomatoes, spinach, and chile peppers; and loads of expert wisdom about how to use and love your tortilla press, whatever kind you own. Plus she serves up more than a hundred ways to turn your hand-crafted tortillas into tonight's dinner, with recipes for all the very best homemade Southwestern, TexMex, and Mexican sauces, toppings, and fillings you need to turn out soul-satisfying enchiladas, fajitas, tacos and taco salads, chalupas, quesadillas, burritos, and more.

"What a fun book! Dotty Griffith begins with clear tutorials on making  corn and flour tortillas from scratch, along with lots of creative variations. (I can't wait to try her cilantro lime corn tortillas.)  She then shares recipes for using your homemade bounty—everything from tacos to enchiladas and soups to desserts. Tips, history, and corny jokes are peppered throughout, making for an enjoyable read. If you're a fan of tortillas, this cookbook is a must!"
--Lisa Fain, blogger at The Homesick Texan and author of The Homesick Texan Cookbook
 
"This book is the real deal for tortillas of all kinds as well as recipes using tortillas!"
--Sylvia Casares, chef/owner, Sylvia's Enchilada Kitchen, Houston, and author of The Enchilada Queen Cookbook
 
"Dotty Griffith has packed more about tortillas into one book that I thought possible. This book is the only reference you'll ever need to make all kinds of great tortillas."
--John Mariani, author of The Encyclopedia of American Food and Drink
 
"Making tortillas at home is an easy, rewarding, and tasty craft to master. Dotty Griffith has written the definitive book on the subject, covering not just tortillas but all the amazing things you can make with them."  
--Cheryl Alters Jamison, author of Texas Slow Cooker and co-author of Smoke & Spice
 
"Dotty Griffith has written the book I have been waiting for all my life--and the one I wish I had written first! This brilliant book is destined to become a classic. From chimichangas to chilaquiles, salsas to sopes, this book has everything you'll ever need to satisfy your cravings for all things tortilla."
--Stephan Pyles, chef, restaurateur, and author of The New Texas Cuisine

 
 
About the Author
Dotty Griffith is a recognized authority on Texas cuisine and barbecue. A former food editor and restaurant critic for The Dallas Morning News (Texas's leading daily), Griffith is a native Texan who has made a career out of observing, analyzing, and sharing the elements of her state's myriad food traditions.