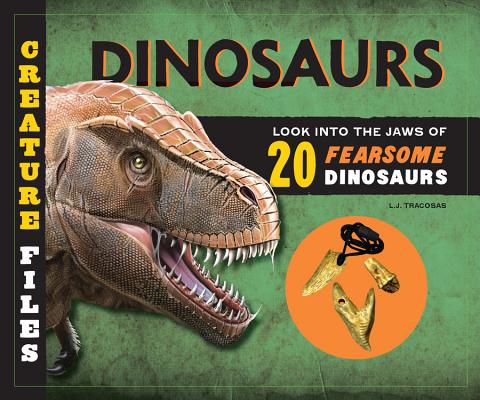 Creature Files (Hardcover)
Dinosaurs: Look into the Jaws of 20 Ferocious Dinosaurs
becker&mayer! kids, 9780760355282, 48pp.
Publication Date: October 3, 2017
* Individual store prices may vary.
Description
Open wide! You're about to take a look into the mouths of some of the most fearsome dinosaurs to ever walk the Earth with Creature Files Dinosaurs. Grab your tools and get ready for dino exploration!

What can you learn from a 250-million-year-old tooth? More than you might think! From the knife-like teeth ofTyrannosaurus rex, to the blunt rake-like teeth of the armored Euoplocephalus, to the leaf-stripping teeth of the giant Diplodocus, every bicuspid and molar has a fascinating tale to tell about the food these animals ate, the way they hunted and foraged, and even what might have led to their demise.

In Creature Files: Dinosaurs, you'll peer inside the jaws of these fearsome creatures, discovering what they really looked like, where they roamed, and what they ate, using many of the same tools thatactual paleontologists do. Can you match the three replica teeth to the prehistoric mouths they belong to? Stunning illustrations and surprising stats bring the stories of these long-extinct beasts to life.
About the Author
L. J. Tracosas writes books for curious kids and edits anything she can get her hands on. She's published 10 books for young readers, including the best-selling Creature Files series, as well as licensed titles with Mattel, WWE, and others. L.J. lives in Atlanta, Georgia.
Praise For Creature Files: Dinosaurs: Look into the Jaws of 20 Ferocious Dinosaurs…
What I like about this book is you don't see the same dinosaurs you find in other books. There are some I've never heard of alongside my childhood favorites.
- GeekMom
or
Not Currently Available for Direct Purchase