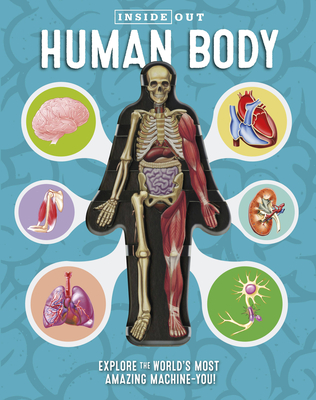 Inside Out Human Body (Hardcover)
Explore the World's Most Amazing Machine-You!
becker&mayer! kids, 9780760355312, 16pp.
Publication Date: October 10, 2017
* Individual store prices may vary.
Description
Discover the amazing human body, system by system and layer by layer, and the incredible things it is capable of with Inside Out Human Body. Comes with a real, 3-D model to help you learn faster!

What do you think is the most amazing machine in the universe? A superconductor? The modern computer? A rocket ship? Think again: It's the human body! Astonishingly intricate and complex, your body grows, heals itself, and performs a mind-boggling number of complex functions all at the same time!

Inside Out: Human Body takes you on an incredible journey through the powerful muscular system, the "bone zone," the long and windy road of the digestive system, the blood-pumping circulatory system, the forty-seven-mile long nervous system, and beyond! A unique layered model of the human body serves as the center point of each section, revealing key body parts and functions, while entertaining and informative text explains how the body works.

Each section is fully illustrated with colorful diagrams and includes fun, interactive lessons for you to try yourself. You can learn how to take your own pulse, how to make your arms float, and even what the color of your urine means! Sometimes the most incredible wonders are right under our noses.
About the Author
Luann Colombo, M. Ed., is an award-winning science author and educator with thirty-seven published books and CD-ROMs. Luann also organizes school science programs and writes curriculum for TV shows such as Bill Nye the Science Guy and NOVA.
Praise For Inside Out Human Body: Explore the World's Most Amazing Machine-You!…
"Utilizing a dynamic design and incorporating intriguing bite-size facts, the Inside Out series, introduces younger readers to different objects, mostly involving bodies, by peeling away the layers...Ultimately, an informative introduction that's built around an irresistible conceit." - Maggie Reagan, for Booklist
"Feed your curious kiddos some answers about the way our bodies work as you take a journey through the muscular system, the "bone zone," the digestive system, circulatory system and 47-mile long nervous system in this wonderful book by Luann Columbo. Part of Quarto's Inside Out series—which includes recent titles about Egyptian mummies, sharks and dinosaurs—you'll be impressed by the fully illustrated book with a layered model of the human body at the center point to each section." - Amber Guetebier, for Red Tricycle