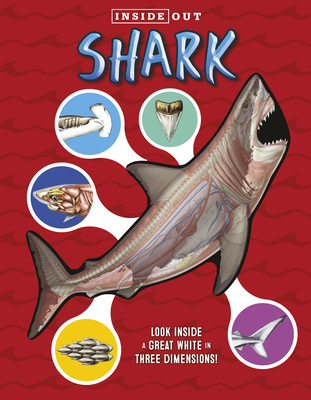 Inside Out Sharks (Hardcover)
Look inside a great white in three dimensions!
becker&mayer! kids, 9780760355329, 16pp.
Publication Date: October 10, 2017
* Individual store prices may vary.
Description
Journey inside a shark and live to tell the tale! With Inside Out: Shark, you'll take a three-dimensional tour through a different sharks to learn about the unique bodies of these eating machines! 

Sharks are some of natures largest and most ancient creatures on the planet. This is your chance to learn how they move, how they work, and tons of facts about how they live. Inside Out Sharks brings you all of this information and a whole lot more!

Why are shark eggs called "mermaid purses"? What in the world are "skin-teeth"? Do sharks deserve the nickname "man-eater"? Find the answers to these questions and more in this action-packed book, which dives deep under the surface to explore the world of these astounding animals.

From the eerie goblin shark to the wide-eyed hammerhead to the most feared shark of them all, the great white, see the world from a shark's-eye-view—and get an in-depth look at these most mysterious and misunderstood predators.
About the Author
David George Gordon is the award-wining author of twenty books on topics that range from watching gray whales and bald eagles to appreciating cockroaches, coral reef fishes, and geoduck clams. He has been featured in Ripley's Believe It or Not, National Geographic Kids, The Wall Street Journal, and Time magazine. He's been a guest on Late Night with Conan O'Brien, ABC's Nightline, and The View. As a bug chef, he has performed at the Smithsonian Institution, Yale University, and Singapore's Food Fest. Gordon lives in Seattle with his wife and their pet tarantula, Wes.
Praise For Inside Out Sharks: Look inside a great white in three dimensions!…
"Utilizing a dynamic design and incorporating intriguing bite-size facts, the Inside Out series, introduces younger readers to different objects, mostly involving bodies, by peeling away the layers...Ultimately, an informative introduction that's built around an irresistible conceit." - Maggie Reagan, for Booklist