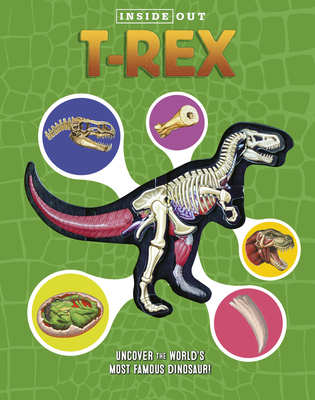 Inside Out T. Rex (Hardcover)
Explore the World's Most Famous Dinosaur!
becker&mayer! kids, 9780760355336, 16pp.
Publication Date: October 10, 2017
* Individual store prices may vary.
Description
The Tyrannosaurus rex has long been hailed as the king of the dinosaurs, but what do scientists really know about this prehistoric creature? Inside Out: T. Rex shows you all the clues we've gathered!

Inside Out: T. Rex offers clues to understanding the most compelling and mysterious dinosaur of them all. Loaded with awesome illustrations and captivating text, a die-cut model within the book's pages will take you inside T. rex's body to reveal, layer by layer, how these giant beasts lived more than 65 million years ago.

You won't need a time machine to see this giant, fearsome predator in amazing detail! Each page of Inside Out: T. Rex will bring you even deeper into the world of the Tyrannosaurus rex. You will be amazed by how its specialized anatomy, from its razor-sharp teeth ,to its massive size, to its squishy insides established it as the top of the prehistoric food chain.
 
About the Author
Dennis Schatz is Senior Advisor at Pacific Science Center in Seattle, Washington. He is also Field Editor of a new journal, Connected Science Learning, which highlights links between in-school and out-of-school learning. The journal is a joint effort of the National Science Teacher Association and the Association of Science Technology Centers.Dennis is the author of 23 science books for children, including Uncover A T. rex (becker&mayer!), the Fossil Detective series of four books (becker&mayer!) and the popular Totally series of six books (Totally Dinosaurs in 2000 to Totally Sea Creatures in 2003; becker&mayer!). His books have sold almost 2 million copies worldwide and have been translated into 23 languages. His Uncover A T. rex book was a 2003 Parents Choice Award Winner, and his Fossil Detective Woolly Mammoth received a 2006 iParenting Media award. He is also coauthor/editor of several curriculum resources for teachers. He lives and works in Seattle, Washington.
Praise For Inside Out T. Rex: Explore the World's Most Famous Dinosaur!…
"Multilayered overlapping cutouts provide an unusually detailed 3-D look at T. Rex's innards—or at least what can be deduced about them from the fossil record. Visible through a big acetate window on the front cover, the cutouts peel back with each turn of a sturdy page—highlighting, for instance, realistically depicted arm and leg bones, major muscle groups, or reconstructions of pulmonary and other systems...Budding biologists and others with an interest in what's inside will be entranced." - Kirkus Reviews
"Utilizing a dynamic design and incorporating intriguing bite-size facts, the Inside Out series, introduces younger readers to different objects, mostly involving bodies, by peeling away the layers...Ultimately, an informative introduction that's built around an irresistible conceit." - Maggie Reagan, for Booklist