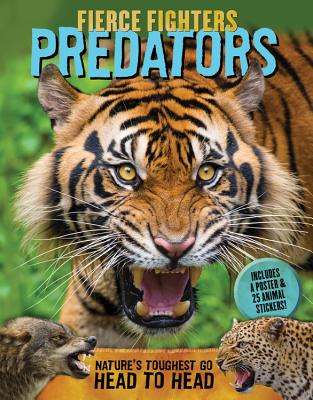 Fierce Fighters Predators (Paperback)
Nature's Toughest Go Head to Head--Includes a Poster & 20 Animal Stickers!
becker&mayer! kids, 9780760355350, 112pp.
Publication Date: September 19, 2017
* Individual store prices may vary.
Description
Fierce Fighters Predators put the most dominant predators in the world into hypothetical fights and analyzes their power, quickness, venom, to see who would win.

For the world's fiercest predators, winning is second nature. But what would happen if they forgot their prey and battled one another, instead? Featuring dozens of the world's greatest hunters, Fierce Fighters: Predators showcases the most epic battles imaginable between the champions of the land, sea, and sky.

Grizzly versus mountain lion. Electric eel versus piranha. Orca versus great white shark. Komodo dragon versus tiger. Python versus king cobra. These aren't just head-to-head match-ups—they are tooth-to-tooth and claw-to-claw. Deadly venom against powerful jaws. Speed and agility against brute force. Brainy mammals against cold-blooded reptiles with a survival instinct millions of years in the making. Weigh the skills of the contestants and try to guess who will emerge victorious, then check and see if the experts agree. In these dozens of earth-wide battles, can you predict the most ferocious fighters of all?
About the Author
Lee Martin is an editor of educational materials and author of books for children. She especially enjoys discovering quirky facts about our world and the wild things that share it with us. Lee lives with her husband in Seattle, Washington.
Paul Beck writes about science and technology for readers of all ages. He has more than 15 years' experience writing nonfiction books for children and has authored more than 60 books on subjects ranging from architecture to history to zoology. His books include Uncover a Dog, Uncover a Cat, Skulls, and The Field Guide to Safari Animals. When not writing, he enjoys playing music and drawing moose cartoons. He lives in Portland, Oregon.
or
Not Currently Available for Direct Purchase