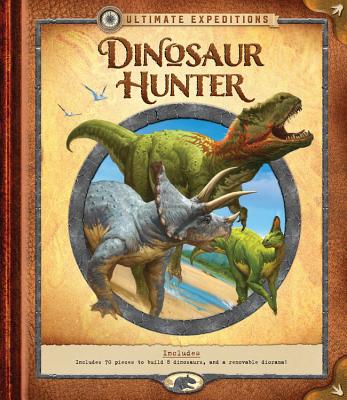 Ultimate Expeditions (Hardcover)
Dinosaur Hunter: Includes 70 pieces to build 8 dinosaurs, and a removable diorama!
becker&mayer! kids, 9780760355411, 36pp.
Publication Date: November 21, 2017
* Individual store prices may vary.
Description
Dinosaurs may be gone, but we can learn from their fossils! Ultimate Expeditions: Dinosaur Hunters gives you facts, and even lets you make 3D models of 8 dinos.

Though dinosaurs are long extinct, their bones can be used to piece together the puzzle of their past. Fossil hunter Jackson Foster has just returned from a three-month expedition uncovering the remains of dinosaurs that roamed across North America millions of years ago, and he has a fascinating tale to tell.

From the massive and toothy Tyrannosaurus rex to the speedy Coelophysis that traveled in packs, Ultimate Expeditions: Dinosaur Hunter brings to life eight incredible creatures, with illustrations, maps, fossil finds, and facts about when, where, and how they lived.

Accompany Foster on his thrilling adventures, and take a trip beyond the page and back to a time when animals were larger than elephants, some weighing more than 88,000 pounds! Follow the assembly instructions to create your own fierce 3-D models of each dinosaur.
 
About the Author
Nancy Honovich is an award-winning writer and editor and the author of numerous articles, short stories, and books for children, which explore a wide range of subjects from knights and inventors to animals all over the world. She works as an editor in New York City.
Praise For Ultimate Expeditions: Dinosaur Hunter: Includes 70 pieces to build 8 dinosaurs, and a removable diorama!…
"Follow along with fossil hunter extraordinaire Jackson Foster as he documents his 1929 expedition across North America in search of clues revealing the wonders of the prehistoric world. Maps, color photographs, detailed illustrations, historical facts, and, of course, countless insights into the habits of dinosaurs themselves are all included in an appealing field journal. Junior paleontologists will revel in the construction of a 3-D diorama complete with eight freestanding behemoths from a tyrannosaurus to a triceratops." - Pallas Gates McCorquodale for Foreword Reviews