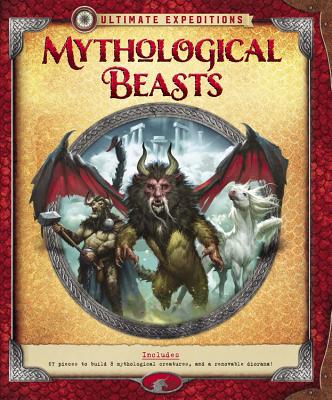 Ultimate Expeditions Mythological Beasts (Hardcover)
Includes 67 pieces to build 8 mythological creatures, and a removable diorama!
becker&mayer! kids, 9780760355435, 36pp.
Publication Date: November 21, 2017
* Individual store prices may vary.
Description
Ultimate Expeditions Mythical Beasts will amaze you with the facts behind chimeras, chupacabras, and more—including 67 pieces to build 8 of the creatures, and a removable diorama!

Imagine if the monsters of mythology were real. What if there really were fire-breathing Chimeras in Turkey, or blood-sucking Chupacabras in Puerto Rico? After uncovering a mysterious fossil that appears to be the remains of a mythical animal, student archaeologist Kimberly Raleigh travels across the globe to uncover secrets about beasts long thought to be the stuff of fantasy.

Fascinating fun facts, newly unearthed archaeological findings, and vivid illustrations link these mythic beasts to modern-day animals and are sure to ignite the imagination of any inquisitive mind. In addition to the detailed profiles, Ultimate Expeditions: Mythological Beasts features a 3-D paper model for 8 of the creatures, enabling you to get up close and personal with these thrilling beasts. The beasts:
Basilisk
Kraken
Chimera
Pegasus
Hydra
Minotaur
Sphinx
Griffin
Manticore
Long
Catoblepas
Ahuizotl
Ogopogo
Yowie
Chupacabra
From the remote mountains of Turkey to high in the Himalayas of Nepal to the small rural villages of Puerto Rico, a globetrotting adventure awaits!
About the Author
L. J. Tracosas writes books for curious kids and edits anything she can get her hands on. She's published 10 books for young readers, including the best-selling Creature Files series, as well as licensed titles with Mattel, WWE, and others. L.J. lives in Atlanta, Georgia.