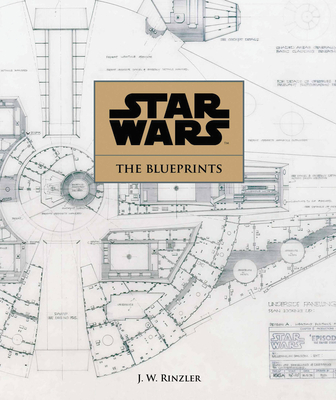 Star Wars
The Blueprints
Hardcover

* Individual store prices may vary.
Description
Star Wars: The Blueprints gives an all-access pass into the Lucasfilm Archives to unveil the original technical drawings of the galaxy far, far away.

With more than 250 blueprints, 500 photographs and illustrations, and ten stunning gatefolds, Star Wars: The Blueprints is a deluxe volume that reveals the work of the engineers, designers, and artists who dreamed up the look and feel of the Star Wars universe.

Best-selling author J. W. Rinzler explores the complex process of envisioning and creating the Star Wars films throughout this collection. Witness first-hand the technical expertise and jaw-dropping detail involved in every part of the process, from concept sketches to final scenes. Star Wars: The Blueprints showcases the transformation of careful technical drawings to now-iconic sets--the rebel blockade runner, the Millennium Falcon, the bridge of General Grievous's flagship, Jabba the Hutt's throne room, and many others.

Meticulously researched and packed with gorgeous artwork and little-known details, Star Wars: The Blueprints tells the story of the brilliant minds and technical prowess that brought this extraordinary epic to life.
Epic Ink, 9780760355442, 336pp.
Publication Date: September 5, 2017
About the Author
J. W. Rinzler is a former executive editor at Lucasfilm and the New York Times bestselling author of many Star Wars books, including The Making of Star Wars, the Star Wars Storyboards (Original Trilogy and Prequels), and The Sounds of Star Wars. He has also written for the Emmy award-winning animated TV series Star Wars: The Clone Wars. He lives in Albion, California.