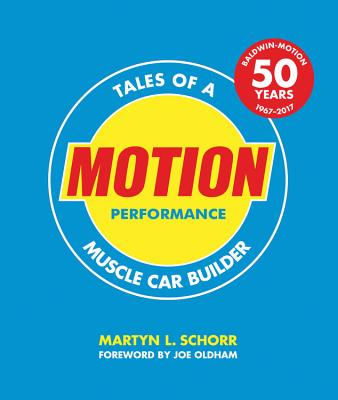 Motion Performance (Paperback)
Tales of a Muscle Car Builder
Motorbooks, 9780760355602, 176pp.
Publication Date: September 5, 2017
* Individual store prices may vary.
Description
Motion Performance is the fully illustrated, inside story of the 60's shop that turned off the assembly line muscle cars into fire breathing performance monsters.

Motion Performance tells the inside story of how American muscle cars came to dominate every element of the open road. Brilliantly illustrated with period pictures and modern color photos, the book takes you along for the ride as Cobras, Chevrolets, Oldsmobiles, even Volkswagen Beetles roll into the shop to get torn down and rebuilt into cars unbeatable on the streets and drag strips.

Marty Schorr gives a first-hand account of seven years of high-performance life--and of how it all came to a screeching halt at the hands of the U.S. Department of Transportation and the Environmental Protection Agency. A once-in-a-lifetime tale of power and speed, told by one of the principals who put that performance within reach, Motion Performance makes the story of a briefly and thrillingly lived dream available to everyone. 
 
About the Author
Martyn L. Schorr has a history with high-performance cars that dates back to the beginning of Ford's Total Performance era over fifty years ago. He rode with Carroll Shelby and was at the press conference in New York for the debut of the Lola-built Ford GT that became the GT40. Schorr drove the GT40 on streets of New York City and went with Mickey Thompson in 1969 to Bonneville to set a book full of records. He personally knew all the key players from Ford's racing program from his years as a magazine editor. Schorr is the author of Motion Performance.
Joe Oldham is the author of several books on muscle cars. He began his career in journalism in 1964 as a writer/editor for Magnum-Royal Publications, where he road-tested every muscle car for magazines such as Hi-Performance Cars, Speed & Supercar and Supercars Annual until 1976. He then spent the next thirty-two years at The Hearst Corporation, the last nineteen as editor-in-chief of Popular Mechanics. He currently resides in La Quinta, California with his wife, Nina.
or
Not Currently Available for Direct Purchase