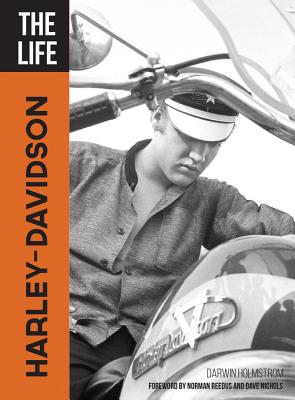 The Life Harley-Davidson (Hardcover)
Motorbooks, 9780760355640, 240pp.
Publication Date: December 8, 2017
* Individual store prices may vary.
Description
If you've felt the unabashed freedom that comes with a motorcycle, then you know the Harley lifestyle. The Life Harley-Davidson takes a deep look at all aspect of the life that comes with these bikes.

From the moment we first saw riders experiencing the joy and the freedom that can only be found riding a powerful motorcycle down an open road, many of us have been hooked on the life Harley-Davidson. The Life: Harley-Davidson celebrates that freedom.

The Life Harley-Davidson covers all aspects of the Harley lifestyle, profiling celebrity Harley fans like Elvis Presley, Hunter S. Thompson, Peter Fonda, and Arnold Schwarzenegger. All the iconic machines are here, too, like the Sporster, Electra Glide, and Fat Boy. The book also explores all the major types of custom Harleys, like Bobbers, Choppers, and Cafe racers.

This is about more than just motorcycles, though. It's about community, gear, and tattoos. It's about B movies, like The Wild One, The Wild Angels, and Wild Hogs. And, of course, television's Sons of Anarchy, a program that ignited interest in the life Harley-Davidson among a younger generation of rebels. Chapters cover the one percenter outlaw club scene, focusing on international clubs like the Hells Angels, Outlaws, Pagans, and Dragons.
About the Author
Darwin Holmstrom has written, co-written, or contributed to more than thirty books on subjects ranging from motorcycles and muscle cars to Gibson Les Paul guitars, including Indian Motorcycles, GTO: Fifty Years, Let's Ride: Sonny Barger's Guide to Motorcyclying,Top Muscle: The Rarest Cars from America's Fastest Decade, BMW Motorcycles, The Life Harley-Davidson, and The Complete Idiot's Guide to Motorcycles. Darwin is the former senior editor at Motorbooks and former Midwestern editor for Motorcyclist magazine.
Norman Reedus was born in Hollywood, Florida, to Marianne and Norman Reedus. Reedus is perhaps best known for his starring role of the motorcycle driving Daryl Dixon in the AMC television series The Walking Dead (2010). The character was not originally in the comic book series of the same name, but was created specifically for Reedus after his audition for the character of Merle Dixon. The Walking Dead comic creator Robert Kirkman has stated he feels "absolutely blessed" that Reedus is a part of the show.
Dave Nichols has been involved in many forms of media both in front and behind the camera since 1978. He has written and produced over 1,200 TV commercials with Shadoe Stevens, Inc., a series of television comedy specials for HBO/Cinemax, and American Top 40 for ABC Watermark. He has produced live events for Jani International and live sports programs for television, created early-learning software for Microsoft, and developed ad campaigns for radio, TV, and feature film trailers for New World Pictures. Dave has been the editor-in-chief of Easyriders and V-Twin motorcycle magazines since 1998 and is currently overseeing ten automotive and motorcycle magazine titles for Paisano Publications, including the new Road Iron custom touring bike title. Nichols was the on-camera host of V-Twin TV, a 26-episode motorcycle-related television series seen on the SPEED channel. He is also the bestselling author of Top Chops, Indian Larry: Chopper Shaman, One Percenter, and One Percenter Code, all published by Motorbooks. He lives in Ashland, Oregon, and Los Angeles and is currently creating TV series and feature film projects with HBO producer Michael Hill.
Praise For The Life Harley-Davidson…
"The book sheds light on the complicated relationship between Harley-Davidson motorcycles and personal freedom, as each individual rider defines that freedom."
- UltimateMotorcycling.com