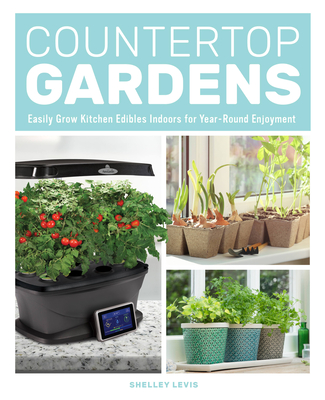 Countertop Gardens (Paperback)
Easily Grow Kitchen Edibles Indoors for Year-Round Enjoyment
Cool Springs Press, 9780760357811, 160pp.
Publication Date: June 19, 2018
* Individual store prices may vary.
Description
Whether you have a huge yard in a warm climate or a tiny apartment in a city with harsh winters, you can grow edibles year-round in the comfort and convenience of your own kitchen!

Countertop Gardens will make you an expert in the world of indoor gardening, walking you through the challenges, benefits, and how-tos of growing inside and presenting the wide array of methods available. In addition to going over the pros and cons of a wide range of ready-made hydroponic, aquaponic, and vertical gardening systems, author Shelley Levis shows you how to make your own DIY setups--from simple space-saving container designs to more creative and complex soil-free solutions. 

No matter the size of your kitchen or your ambition, Countertop Gardens will help you make sure your favorite herbs, greens, fruits, and vegetables are within reach 365 days a year!
About the Author
Shelley Levis is a passionate horticulturist, speaker, writer, and garden designer. She is an editor and content creator for Urbanique magazine, a regular contributor to a variety of newspapers and magazines, and the voice behind the popular gardening blog Sow & Dipity. Her creative DIY garden projects have been featured in the Huffington Post, Fine Gardening and GreenCraft magazines, and other publications.
Praise For Countertop Gardens: Easily Grow Kitchen Edibles Indoors for Year-Round Enjoyment…
Countertop Gardens is a well thought-out book that's sure to cure your twitching green thumb, so you can plant, grow and harvest yummy homegrown produce—no matter where you live.
- Community Table @ Parade.com
Countertop Gardens offers a plethora of options for growing vegetables indoors at any time of the year
- HealthyHouseplants.com
I highly recommend 
Countertop Gardens
 for anyone who wants to have fresh food at their fingertips year-round. The book combines practical tips and creative approaches to get you started.
- Southwest Gardens
"Growing your own herbs at home is easy with this new book."  
- Living North
In short order, tomatoes, strawberries, mushrooms and more will be at your fingertips.
- Classic Home Magazine