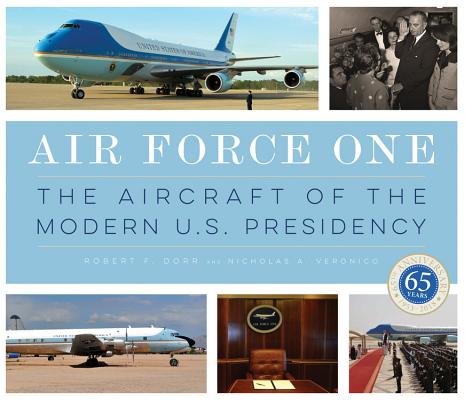 Air Force One (Hardcover)
The Aircraft of the Modern U.S. Presidency
Motorbooks, 9780760357996, 160pp.
Publication Date: March 1, 2018
Other Editions of This Title:
Hardcover (7/27/2002)
* Individual store prices may vary.
Description
The presidential plane wasn't always known as Air Force One. FDR traveled in the Guess Where II, a transport version of the heavy bomber four-engine Liberator. Later presidential aircraft included the Dixie Clipper and Sacred Cow (FDR), Independence (Truman), Columbine I and II (Eisenhower), followed by Air Force One.

For the last sixty years Air Force One has seen every president and first lady through each administration's triumphs and tragedies, and has flown over a million miles around the globe.

Featuring new and unseen photography of the presidential aircraft, aviation expert and author Nicholas A. Veronico brings the story of the mighty aircraft up to date; detailing how the plane has adapted to the digital age, and what to look forward to as Boeing updates the aircraft once more for 2024.

Get ready to fly!
About the Author
Author Nicholas A. Veronico comes from a family of pilots, both his mother and father held private tickets, and his brother is a commercial pilot who flies for a major airline. 

Veronico got his start as a freelance writer in 1984, then joined "Pacific Flyer" Aviation Newspapers. He then went on to serve as editor of "In Flight USA," contributed extensively to "FlyPast" magazine, and in 1994 joined "Airliners: The World's Airline Magazine." On a freelance basis, he has contributed to "Air Classics," "EAA Warbirds," "Warbirds Worldwide," "Airways," "Airliner World," "Warbird Digest," "Classic Wings," and many others. 

His career path led to the high-tech industry where he worked for an embedded systems-on-a-chip magazine, "Silicon Strategies." Subsequently, he served as editor of "Gridpoints, the quarterly publication of the NASA Advanced Supercomputing Division," which covered NASA's scientific achievements in computational physics using high performance computers. He now works as a science and technology writer in the San Francisco Bay area and has recently written for the NASA.gov website, the Astronomical Society of the Pacific's "Mercury" magazine, for Space.com, UniverseToday.com, and the SETI Institute's "Explorer" magazine.

In addition, Veronico has collaborated with a number of today's most respected historians and authors and has written more than 40 books on a wide range of transportation, military, and local history subjects. He also served as the lead scriptwriter for "Scrapping Aircraft Giants," a TV documentary by Daurg Productions for The Discovery Channel. 

As a life-long air racing enthusiast, he partnered with historian Kevin Grantham to chronicle the Cleveland and Reno Air Races in the Raceplane Tech Series -- Vol. I "Griffon-Powered Racing Mustangs" and Vol. II. "Round-Engine Racers: Bearcats and Corsairs" (2000 and 2002, Specialty Press), and his previous "F4U Corsair: The Combat, Development, and Racing History of the Corsair (1994, Motorbooks International).

Veronico has written extensively on U.S. naval operations in World War II on the sea and in the air. He is the author of "Pearl Harbor Air Raid" (Stackpole Military Photo History, 2016), "Hidden Warships" (Zenith Press, 2015), "Hidden Warbirds: The Epic Stories of Finding, Recovering, and Rebuilding WWII's Lost Aircraft" (Zenith Press, 2013), "Hidden Warbirds II" (Zenith Press, 2013), "Battlestations: American Warships in WWII" (Motorbooks, 2001), a profile of the former Naval Air Station and NACA/NASA facility at "Moffett Field" (Arcadia Publishing, 2006), and "World War II Shipyards of the Bay Area" (Arcadia Publishing, 2007), as well as "F4U Corsair" (Motorbooks, 1994) and "Convair PB4Y-2/P4Y-2 Privateer" (Ginter Books, 2012). In addition, he appeared on the TV series "Life After People" in the 2010 episode "Take Me To Your Leader," providing history and commentary on the Hunters Point Naval Shipyard near San Francisco, California.

In 1995 he started www.wreckchasing.com -- an online community for enthusiasts interested in locating, documenting, and preserving historic aircraft wrecks. He hosted the first symposium for those interested in aviation archaeology and wreckchasing in 2009.

Recently, the Military Writer's Society of America (www.militarywriters.com) recognized Veronico's history of the U.S. Navy Blue Angels flight demonstration team and his book on military aircraft storage (AMARG) with distinguished book awards.
or
Not Currently Available for Direct Purchase