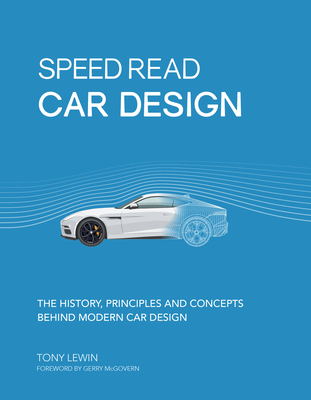 Speed Read Car Design (Paperback)
The History, Principles and Concepts Behind Modern Car Design
Motorbooks, 9780760358108, 160pp.
Publication Date: December 5, 2017
* Individual store prices may vary.
Description
This beautifully designed and illustrated essential guide to car design from Motorbooks' Speed Read series traces the inspirations of the first car designers and tracks the craft, the art, and the science that have propelled successive generations of designers and shaped the contours of the vehicles we see all around us.

Never before has the car-buying public been more aware of how a car's design fits into their everyday lives and what it communicates about the driver behind the wheel. Like all design, car design is complex subject. Every part of a car represents myriad decisions by the design team ruled by engineering, aesthetics, human interface, and emotion. Speed Read Car Design helps the you understand the hows and whys of that design process, offering an engaging review of history, theory, key concepts, and key designers. It's a book for car enthusiasts, design fans, and anyone with a desire to better understand why our wheeled world looks the way it does.

In sections divided by topic, you'll explore the birth of car design, how it evolved over the last century, successes and failures in innovation, the elements that make up a car's style, the engineering behind the design, the creative process and design fads, and finally the road ahead in car design.

Each section ends with a glossary of related terms, and informational sidebars provide fun facts, historical tidbits, and mini-bios of key people in car design. Sleek illustrations of the cars give clear design examples throughout.

With Motorbooks' Speed Read series, become an instant expert in a range of fast-moving subjects, from Formula 1 racing to the Tour de France. Accessible language, compartmentalized sections, fact-filled sidebars, glossaries of key terms, and event timelines deliver quick access to insider knowledge. Their brightly colored covers, modern design, pop art–inspired illustrations, and handy size make them perfect on-the-go reads.
About the Author
Tony Lewin has spent most of his working life driving cars, analyzing them, and reporting on the ups and downs of the global enterprises that build them. As a writer and editor for Automotive News Europe he has kept a constant watch on the world's top carmakers for many years. Today, Lewin divides his time between journalism and books.