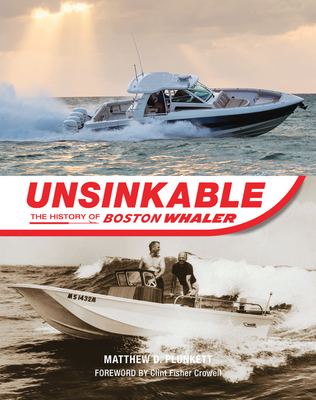 Unsinkable (Hardcover)
The History of Boston Whaler
Motorbooks, 9780760359990, 208pp.
Publication Date: September 12, 2017
* Individual store prices may vary.
Description
Boston Whalers are the quintessential American motorboats. Born from innovation, risk, and above all hard work, their reputation for reliability, fun, and safety has changed the way the people go boating. The first Whalers hit the water in 1958, but the "Unsinkable Legend" was created with a daring launch in 1961, when Boston Whaler founder Richard "Dick" Fisher sawed a boat in half before the cameras of Life magazine -- and then piloted the back half of the hull around Wampatuck Pond in Hanson, Massachusetts.

People were shocked and delighted, and the company made its mark on the history of boating by proving that it had created something altogether new and absolutely unsinkable. Unsinkable: The History of Boston Whaler is the first book to tell the story of these iconic boats. Published to celebrate the company's 60th anniversary, author Matthew Plunkett relays a fascinating and engaging tale beginning with how Dick Fisher came to create Boston Whaler and then detailing how the company evolved over the decades.

From the original 13' hull, unflatteringly known as the "blue bathtub," to its current flagship, the 420 Outrage, this book covers the whole story of a truly American company. Drawing on dozens of interviews with employees who were there in the plants, at the dealerships, and on the boats, Unsinkable: The History of Boston Whaler is filled with previously untold stories as well as never before published images, including photos from the families of Dick Fisher and legendary designer Bob Dougherty, Mr. Unsinkable himself.

This intimate look into the creation, culture, and ongoing legacy of Boston Whaler reveals just how influential this company has been both within the industry and for its legions of diehard fans around the world.
About the Author
Matthew Plunkett spent two years researching the history of the Boston Whaler company, from its humble origins in a garage in Braintree, Massachusetts, to its one-hundred-acre factory in Edgewater, Florida. In addition to combing through the written record of this company, Plunkett conducted more than three dozen interviews to pull together the Boston Whaler story. The book features never-before-seen photos and drawings to engage the reader and shed light on the history of this remarkable company. Plunkett resides in Valley Village, CA.
Clint Crowell's first time boating was as a young boy with his grandfather - Dick Fisher, founder of Boston Whaler. He currently owns a 1988 Outrage 18 he uses with his family and friends for fishing at the Channel Islands off the coast of California. A highlight of these trips for Clint is listening to people at the ramp talk with pride and excitement about the boat's seaworthiness and the adventures in a Whaler that have helped shape their life.