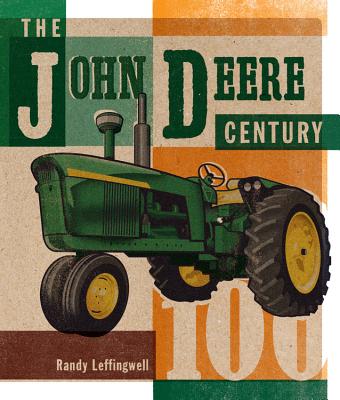 The John Deere Century (Hardcover)
Motorbooks, 9780760360217, 176pp.
Publication Date: March 27, 2018
* Individual store prices may vary.
Description
In The John Deere Century, acclaimed author and photographer Randy Leffingwell uses his unique brand of storytelling to chronicle the company and the tractors that have carried the distinctive green and yellow livery for the past century.

Iconic John Deere tractors ranging from the spartan Waterloo Boy to the Model AOS, and from German and Argentine models to the acclaimed New Generation tractors are featured in this celebration of industrial tractor design. Loaded with photographs, both modern and vintage, and excellently written info, this book will have John Deere fans salivating.
About the Author
Randy Leffingwell wrote his first book, American Muscle, in 1989 while still on staff at the Los Angeles Times. Since then, he has authored another 47 titles for Motorbooks and its sister publisher Voyageur Press covering subjects from sports cars to motorcycles to farm tractors. Leffingwell is considered one of the top Corvette historians working today, and he enjoys a close working relationship with Chevrolet as well numerous other manufacturers. His  previous Corvette titles include Art of the Corvette; Corvette Fifty Years, Corvette 60 Years, and Legendary Corvette. He lives in Santa Barbara, California.
Praise For The John Deere Century…
"Even if you've never been to a tractor factory or toured facilities where engineers design, build and test tractors, you will feel like you have after reading..[The John Deere Century.]"
- WesternFarmPress.com